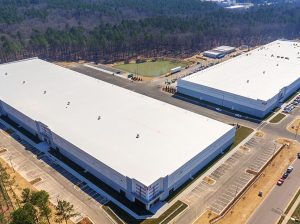 JLL Income Property Trust has paid $66.8 million to acquire two life science properties totaling 375,000 square feet in Durham, N.C., in all-cash transactions. Strategic Capital Partners sold the fully leased properties, according to Durham County records.
Both buildings are part of the Patriot Park campus, and are located at 5 and 47 National Way. In 2017, Strategic Capital Partners acquired the largest remaining sections of land adjacent to the Research Triangle Park from IBM with plans to build the $60 million Patriot Park.
Strategic Capital Partners broke ground on the first phase totaling 322,800 square feet that summer, while the second phase, encompassing 5 and 47 National Way, were completed in 2020. In January, the developer started construction on the third phase.
The tenants
The second phase is fully leased, with a weighted average lease term of more than 14 years. The 187,312-square-foot 47 National Way is leased to KBI Biopharma Inc., a JSR Life Sciences company. As of April, 5 National Way, totaling 187,500 square feet, is home to Taysha Gene Therapies Inc.
Both tenants invested millions to tailor the properties to their needs, with options such as laboratory facilities along with clean and cold rooms. KBI invested $150 million in the facility and expects it to be operational by the first quarter of 2022, while Taysha spent $75 million, and anticipates that its production suites will be fully operational by 2023.
The properties
The buildings offer 188 parking spaces and 20 trailer parking spots, are equipped with ESFR sprinkler systems and feature 32-foot ceiling heights and 130-foot truck courts. Five and 47 National Way are some 6 miles northwest of Raleigh-Durham International Airport, within 2 miles of RTI International, in the heart of the Research Triangle Park.
The 7,000-acre Research Triangle Park is home to hundreds of tenants including Asklepios BioPharmaceutical Inc., Dell EMC and IBM Corp. In April, Apple announced plans to build a $1 billion, 1 million-square-foot campus within RTP.