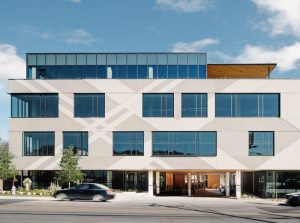 Real estate investment firm DivcoWest has acquired a South Austin office building from Unico Properties for an undisclosed amount. The 170,000-square-foot Class A office property, dubbed Bouldin Creek, was completed earlier this year by Seattle-based Unico.
Located in the Zilker neighborhood at the corner of South Lamar and W. Oltorf Streets, the five-story creative office building features 2 acres of green space, outdoor terraces, a rooftop deck, a standalone cafe and additional outdoor amenities for office tenants.
Along with Unico, the office property was co-developed by Manifold Real Estate and OakPoint Real Estate, the two firms that originally acquired the land in 2018. The project marked Unico's first ground-up development in Austin, and was financed with a five-year, $42.5 million loan obtained in December 2018 from lender First United Bank & Trust, according to CommercialEdge data.
---
READ ALSO: Google Tower Tops Out in Austin
---
DivcoWest's Michael Provost said in prepared remarks that office properties geared toward health and wellness are generating the most leasing activity and are well positioned for future growth.
Designed by Michael Hsu Office of Architecture and Studio8 Architects, Bouldin Creek was built to complement the surrounding neighborhood and nearby greenbelt through the use of natural materials, bold patterning and massing, according to Unico. The property, which is seeking LEED Gold certification, features 50,000 square feet flexible floorplates, floor-to-ceiling windows, a fitness center, bike storage and electric car-charging stations.
Along with Bouldin Creek, DivcoWest's Austin office portfolio includes a 114,000-square-foot office building on E. 6th Street; the 92,000-square-foot Lakewood Center office property in northwest Austin; a 93,000-square-foot office building also in northwest Austin and 6th & Guadalupe, a 1 million-square-foot ground-up development project in downtown Austin. In May, the company paid $135 million for a 220,000-square-foot office building in Lower Manhattan.
Transaction activity in Austin's office market has been surging since May. According to recent data from CommercialEdge, investment sales reached $969 million in the first half of 2021. In June, in one of the biggest deals so far this year, Kilroy Realty acquired the city's tallest office tower from Trammell Crow for $580 million.