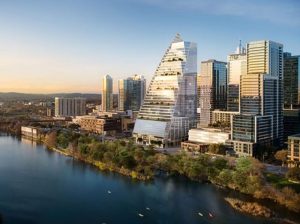 Development firm Trammell Crow and its partner MSD Capital LP announced the topping out of 601 W. 2nd St. in downtown Austin, a 35-story project that is on track to be the city's tallest office tower once completed.
Trammell Crow and MSD broke ground on the Class A office development in January 2019. Around the same time, tech giant Google inked a deal to lease the entire 814,081-square-foot building. Formerly known as Block 185, the tower rises 590 feet and was designed by Pelli Clarke Pelli Architects and STG Design. The building is slated to be completed by May 2022.
---
READ ALSO: A Fresh Shade of Green in Austin
---
The new tower will feature outdoor terraces on every floor of the building, which has a distinctive, pyramid-like design. Situated on a 1.2-acre site overlooking Lady Bird Lake, the development is the final phase in Trammell Crow's Greenwater Treatment Plant redevelopment project. The large-scale plan, first launched in 2012, includes three other projects that have already been completed: the 38-story mixed-use tower Northshore; the 500,000-square-foot office building 500 W. 2nd St.; and Austin Proper, a 244-room boutique hotel.
Austin's current tallest office tower, the recently completed Indeed Tower, was also owned by Trammell Crow before being acquired by Kilroy Realty last month for $580 million.
Development boom
Austin has become one of the fastest-growing cities in the country over the last few years, driven in part by tech companies leasing office space in the metro. As of May, the Texas capital's office development pipeline was the largest in the country with nearly 7.6 million square feet under construction, topping Brooklyn, N.Y. and Charlotte, N.C.
In addition to Trammell Crow's 601 W. 2nd St, other major office projects in the works include Apple's $1 billion, 981,471-square-foot campus in northwest Austin; the 600,000-square-foot George H.W. Bush State Office Building rising downtown; and Lincoln Property Company's 590,000-square-foot office property 6 x Guadalupe, also in the downtown area.