By Keith Loria, Contributing Editor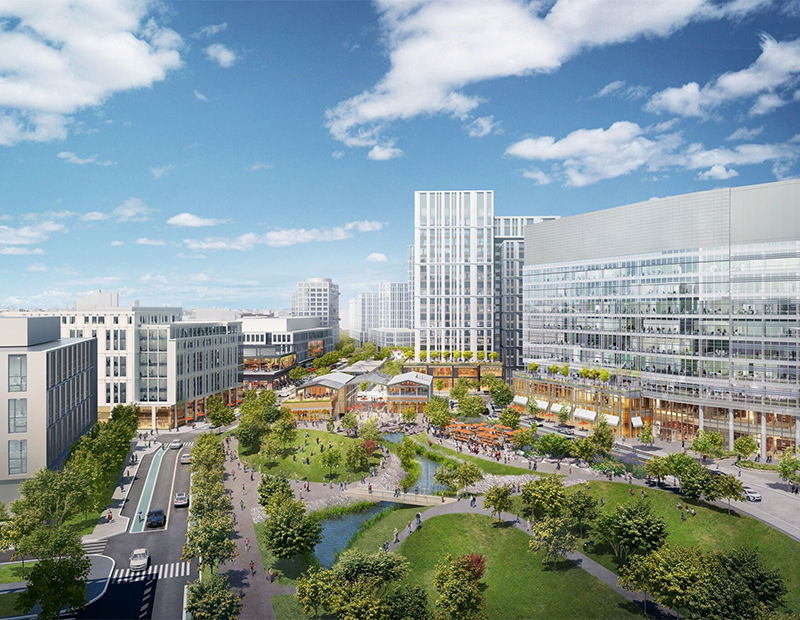 DivcoWest is developing Cambridge Crossing (CX), a life science, technology, and retail development at the former NorthPoint project in Boston.
Situated in a former rail yard at 250 North St., CX will be a new mixed-use neighborhood with research facilities, residential units, and retail amenities. When completed, the 45-acre development will also feature a 430,000 square-foot science and technology building. The first phase of the new neighborhood retail district will be built at the heart of CX.
"250 North Street will be a Class A creative research environment specifically designed to meet the needs of, and appeal to, science and technology tenants," Stuart Shiff, DivcoWest's CEO, told Commercial Property Executive. "It will also be well served by local rapid transit, with a Green line station to be built on site and an Orange line station just blocks away. Additionally, we are planning to create approximately 100,000 square feet of diverse neighborhood retail within the 45-acre Cambridge Crossing development."
Cambridge Crossing will be situated at Kendall Square, centered within one of the highest concentrations of talent and intellectual capital in the world.
"Like the tenants we hope to attract to Cambridge Crossing, we think in terms that go beyond short-term real estate and economic cycles," Shiff said. "We aren't just constructing one building today, we are building the foundation for a community in one of the most in-demand research neighborhoods in the country. We are focused on making sure that we start the process correctly, with the ultimate goal of establishing a sustainable, job-creating eco-system that will prosper long into the future."
According to Shiff, the company has invested in more than 5 million square feet of real estate throughout the greater Boston market, including major assets in Cambridge, and has great appreciation for the region's achievements and its potential.  
"Like Silicon Valley, where our company began over two decades ago, we believe Boston has a strong attraction for technology and life science companies due to an incredible educational base and an appealing work/life balance," he said. "It is our belief that the talent pool is strong and growing in Boston and we do not see that dynamic changing. Our hope is that Cambridge Crossing will continue to strengthen that dynamic by creating a new community designed to inspire collaboration and innovation amongst tomorrow's leaders."
More Than Just Office
In addition to commercial office space, the larger Cambridge Crossing development will have retail shops, an 11-acre public park and as many as 2,400 residential units, creating a vibrant live-work-play community—all at the intersection of Cambridge, Boston and Somerville, where people want to work and live.
"Greater Boston has one of, if not the, largest life science research communities in the country with Cambridge and Boston being at the epicenter for this sector," Shiff said. "It's the place that researchers and companies want to be because of its proximity to global talent magnets, such as Harvard and MIT. Boston already attracts the best of the best students. A primary objective for Cambridge Crossing is to provide companies that recruit future difference makers from these local institutions with a dynamic and purpose-built destination that inspires interactions and collaboration both inside and outside the office."
DivcoWest is no stranger to Cambridge. In 2012, the firm spent $79 million on The Davenport, a Class A office property in the city. More recently, the company sold The Campus at Arboretum, a five-building, Class A office campus in the Northwest submarket of Austin, Texas.
Image courtesy of DivcoWest