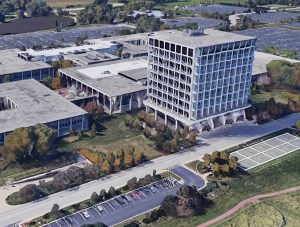 Dermody Properties and The Allstate Corp. have entered into an agreement in which Dermody will acquire the property that comprises the majority of the insurer's headquarters in Northbrook, Ill., for $232 million. Dermody plans to reinvent the 2 million-square-foot suburban Chicago office campus as a state-of-the-art logistics park.
It's a sign of the times. Allstate recently decided to sell the sprawling 186-acre campus where it has been headquartered since 1967 because many of its employees have opted to work from home.
The complex consists of land and the buildings at 2675, 2700, 2755, 2775, and 3075 Sanders Road, sited in a densely populated area 25 miles north of Chicago.
"It is a generational opportunity to have a site of this scale in that location," Doug Kiersey, president of Dermody Properties, told Commercial Property Executive.
Dermody and its investors plan to finance the acquisition of the Allstate campus with a mixture of equity and debt, most likely a traditional floating-rate bank debt in the form of a construction loan deal on a building-by-building basis. One of Dermody's investors may very well be Allstate before the transaction closes.
As noted in a document the insurer filed with the SEC, the sale agreement permits a joint venture including Allstate or an affiliate to invest in Dermody. "The details haven't been completely worked through, but that part of the notice was put in there on purpose and not just by accident," Kiersey said. "Those discussions are ongoing."
From office to industrial
Dermody's preliminary plan for the Allstate site is fluid, as the ultimate scheme will reflect customer demand once the company enters the marketing process. However, early research suggests the company will be able to build approximately 3.2 million square feet on the property at a total investment of roughly $500 million, including the land value.
With a vision in place for a premier logistics campus, the 1960s- and 1970s-era office structures will be demolished. However, much of the infrastructure Allstate put in place to accommodate thousands of employees, visitors and vendors will remain.
"That's super important to us," Kiersey noted. "That really supports, as well, the price that we paid, because there's a lot of work that, when we buy a 'raw site,' we have to do from scratch. Most of that's already done."
Additionally, the campus features mature landscaping. "It has lovely ponds and lots of amenities about it; we're going to be able to keep most of that," he added. "The campus is beautifully maintained. We want to keep that theme going through our development."
If all goes as planned, Dermody's acquisition of the Allstate campus will close in 2022. Allstate will maintain a presence in the Chicago area, notably through its office space downtown and in other locations.