By Steven Bandolik and Robert O'Brien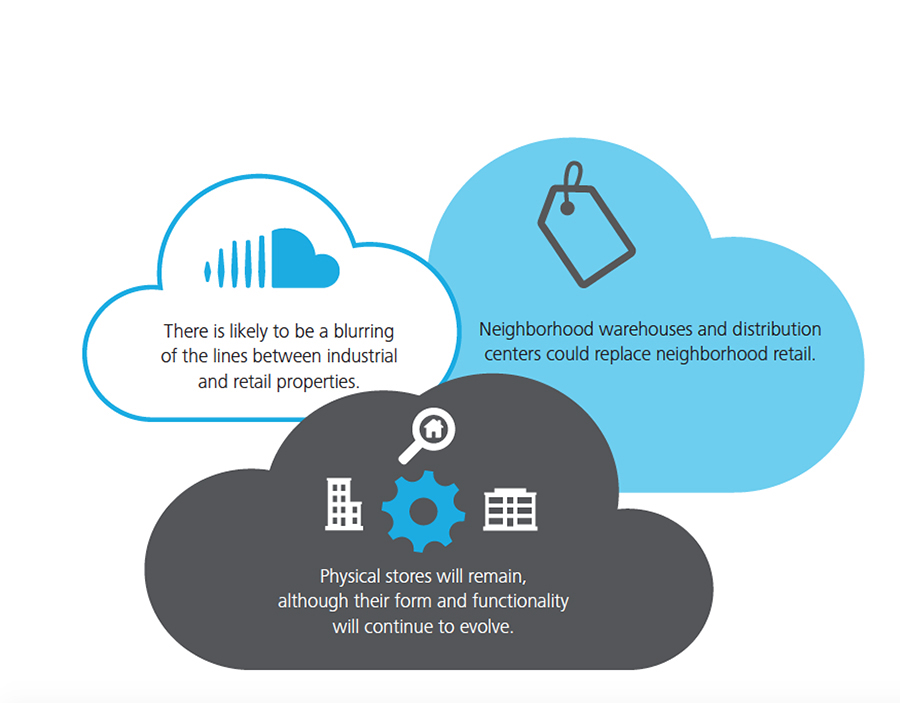 In our November column, we took a look at two macro trends with potential to disrupt the commercial real estate (CRE) sector by 2030—and this month we're going to examine two more. When we look at the forces driving change in the industry and demonstrating potential for further upending, two in particular jump out: First, the effect of evolving consumer preferences on retail and industrial properties; second, how the talent market is fundamentally changing office and mixed-use spaces.
Unlike the tangible trends in technology and the collaborative economy we discussed last month, consumer preferences and talent represent more abstract shifts. As a result, CRE executives must have an even deeper understanding of those intangible trends in order to gauge how and to what extent they will disrupt their businesses. So as we look to 2030, sector leaders should bear in mind that consumer preferences will blur the line between retail and industrial properties.
The on-demand and same-day delivery consumers crave, as well as technological innovations in areas like 3D printing, robotics, and virtual reality, are influencing the location and use of retail and industrial properties. On-demand retailing and manufacturing will continue to reduce inventory holding volumes and the demand for large conventional warehouse space, while hastening the adoption of inventory optimization technology.
To adjust and capitalize on these shifts, CRE executives serving the retail and manufacturing sectors should consider exploring smaller, local distribution centers and flexible store formats. Coming changes in transportation, notably self-driving or driverless cars and drones, will likewise have a major impact on the delivery of goods to the consumer.
Talent Wars
Along with this revolution in retail and industrial space strategies, big changes in the location, design and use of commercial real estate are on the way. The source? A growing talent gap and the evolution of the talent marketplace.
As the competition for talent intensifies, office property owners will increasingly have to think about how talent dynamics factor into location-based decision-making and development. Tangentially, the rise of a robust Millennial workforce that takes a non-traditional approach to employment will give a leg up to companies that favor mixed-use spaces incorporating office, residence, and recreation rather than stand-alone properties.
Transit-oriented development will become a must in major cities, where the creation of compact, walkable, mixed-use communities will center on high-quality public transportation. Millennials will comprise 75 percent of the workforce by 2030, and they prefer an open, flexible work culture that allows them to work anywhere and anytime. That means properties will need to be developed on a large scale to match their expectations of "live-work-play" environments.
While there is no way to tell how much disruption these trends will eventually create, we firmly believe that CRE companies will have to be agile and flexible in embracing technological innovations to keep pace with their new competitors and maintain their edge.
For further insights, we invite you to read "Commercial Real Estate Redefined: How the Nexus of Technology Advancements and Consumer Behavior Will Disrupt the Industry," a recent report by the Deloitte Center for Financial Services.
Steven Bandolik is a director with Deloitte Services L.P. and a senior leader in Deloitte's real estate services practice. Bandolik provides advisory services including capital markets, corporate finance, mergers and acquisitions, investments, restructuring and reorganization, workout and asset recovery.
Robert O'Brien is the U.S. and global leader of Deloitte's real  estate practice and a partner with Deloitte & Touche L.L.P.