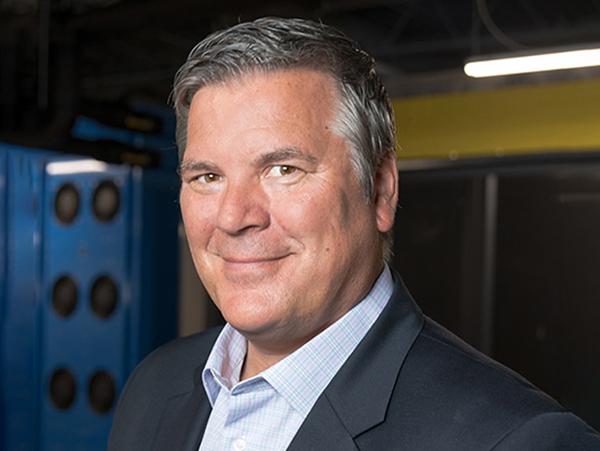 Multi-tenant data center provider DC BLOX opened the first phase of its $785 million development in Birmingham, Ala., this summer. The facility provides 5 megawatts of power, 18,000 square feet of white space and 13,000 square feet of office space, including conference rooms, demo space, hoteling cubes and workstations.
In the interview below, DC BLOX CEO Jeff Uphues reveals the story behind the company's new flagship property and the challenges of operating in emerging markets.
DC BLOX's newly opened flagship data center in Birmingham, Ala., is the result of a private-public partnership and now stands as the company's largest existing facility. What was the most convincing reason to build here?
Uphues: DC BLOX has a method for market selection that uses both quantitative and qualitative analysis. Birmingham ranked very high on our quantitative analysis. Some of the factors we consider include market size and growth rate, competition, power and real estate costs, and fiber network infrastructure availability. What clearly separated Birmingham from competing alternatives for our fourth data center, beyond the attractiveness of the proposed site, was how the government—city, county and state—welcomed DC BLOX and the vision of Birmingham to succeed in their transition from their proud industrial history.
Birmingham was the largest city in the Southeast without a purpose-built Tier III rated multi-tenant data center. We knew that Birmingham was on the right path to growth, and we realize already that we made the right choice. Our presales efforts have exceeded our expectations.
How is DC BLOX prepared to tackle the Southeastern U.S. market?
Uphues: DC BLOX is unmistakably a fan of the Southeastern U.S. due to its cost of living, weather, availability of resources, labor pool, low taxes, real estate prices and more. There are many reasons why the Southeastern U.S. is attractive to the industry. The enablers for technology innovation can be seen throughout the region, boasting the "Gig City" in Chattanooga, and ChaTech⁠—Greenville's accelerating growth in business creation, Tech Birmingham and the Innovation Depot, and Huntsville's jaw dropping number of PhDs.
The common denominator we see is a strong propensity for growth, a business-friendly climate and access to technology talent from world-class research institutions like Clemson, University of Tennessee, University of Alabama, University of Alabama at Birmingham, Auburn University, Georgia Tech and beyond.
---
READ ALSO: Data Center Market Poised for Serious Expansion
---
What are some of the challenges data center providers face when operating in emerging markets?
Uphues: There isn't a universal playbook on how a city might welcome, perceive or value a state-of-the-art data center moving into their market for the first time. What is apparent are the elements that get in the way. Some examples are political unwillingness to take risk and incentivize investment, the lack of an appealing commercial district, declining population, no long-term infrastructure plan and limited job retraining programs. Fundamentally, cities must honor their heritage but nurture a culture of change that recognizes the importance of building infrastructure to accommodate technology growth. Those that don't stay stuck in the past.
How important are private-public partnerships for data center providers? Will DC BLOX pursue more of these partnerships in the future?
Uphues: DC BLOX's vision is to serve locally and connect globally. Private-public partnerships are key for DC BLOX to succeed in the markets we've selected throughout the Southeast. These markets are largely underserved with little or no other Tier III rated independent data centers. While there are clear and vital needs for these data centers amongst the enterprise and government clients, the solution to date has been to build for themselves or take capacity in a center in Atlanta, Ashburn, Dallas and the like.
Customers are also increasingly interested in having their data closer due to latency-sensitive applications and the desire to be able to support their workloads with existing technical staff. In order to meet these evolving local needs, avoid customers sending their data to remote locations, and continue the migration of technology workers to larger cities, it is vital that companies such as DC BLOX actively engage with the public entities to put in place the necessary incentives. This drives the need for creating an environment that educates and retains tomorrow's technology workers and builds the necessary digital infrastructure to support the increasing needs of businesses, universities and state and local governments.
Without the effective and efficient use of incentives, this environment will take far longer to take root and develop, depriving cities of the ability to participate in our rapidly increasing dependence on the technologies of tomorrow. For that reason, DC BLOX will always seek to create private-public partnerships.

Demand for hyperscale data centers continues to rise at a much faster pace than for other offerings. What is driving this surge?
Uphues: Data. Lots and lots of data and the services that manage it. Everyone is saving content digitally both at the corporate and personal level. If you consider how many mobile apps enable you to save your photos and videos, documents, passwords, profiles etc., content streaming services, plus organizations that are in the process of digital transformation, we're currently producing and storing an immense amount of data.
Amazon, Facebook, Google, Apple and others run services that drive transactions (and data). Software-as-a-Service applications move data from a company's IT systems to the cloud. Not to mention, the introduction of "smart cities" and even vehicles that store and transmit data is driving this demand too. It's been predicted that by 2025, the collective sum of the world's data will grow to 175 zettabytes, and almost half of that is expected to be stored in a public cloud (i.e. data center). The population as a whole has created 90 percent of the world's data in just the last two years.
---
READ ALSO: Google Breaks Ground on $600M Las Vegas Data Center
---
How is DC BLOX prepared to face challenges in the context of climate change and the potential impact to IT infrastructure?
Uphues: We're poised to face it head on. The purpose of the data center is to deliver secure, cooled power. DC BLOX works to minimize waste. Our data centers are designed to be highly efficient, consume minimal water and use "free cooling" when temperatures permit. Generator run-time is tightly monitored, and cooling systems use variable speed fans and compressors to minimize energy consumption.
Plus, our data centers and offices are constructed from reclaimable concrete. As our footprint and buying power increases, we're constantly looking for ways to deploy sustainable and renewable forms of energy and recycling.