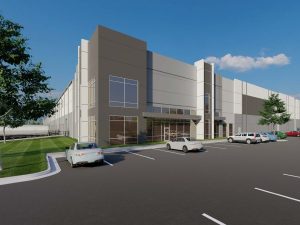 Dalfen Industrial has broken ground on Auburndale Commerce Center, with plans to build two Class A industrial facilities totaling 893,400 square feet in Auburndale, Fla.
According to CommercialEdge data, the company acquired the development site in November 2021 for $25.7 million, from Mancini Cos.
The 73.6-acre property is one of the few industrial-zoned sites in Central Florida without any wetland or floodplain issues. The facilities are slated for completion in 2023, the same data provider shows.
The Central Florida industrial park is located at C. Fred Jones Blvd. & State Route 559, 16 miles from downtown Lakeland, between Tampa and Orlando, with access to Interstate 4. Port of Tampa is approximately 46 miles away. Noteworthy tenants in the surrounding area include Amazon, PepsiCo just 6 miles away, Walmart, UPS, and Sysco.
Tyler McElroy, Southeast Director of Development at Dalfen, stated in prepared remarks that the location along a top logistics corridor in Florida makes this development a valuable addition to the company's portfolio. Dalfen owns 16 other industrial properties in the state and a total of 67 buildings in the southeast.
In the last few months, the company announced plans to develop a 1.3 million-square-foot Class A logistics center in Charleston, S.C., which will be the largest in the Charleston market upon completion. Dalfen also acquired Belvedere Logistics Center, a 348,000-square foot industrial facility in Sacramento, Calif., for $42.8 million, which marked its ninth California investment.