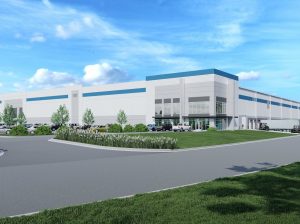 Dalfen Industrial announced plans to develop Palmetto Logistics Center, a more than 1.3 million-square-foot Class A industrial project in Charleston, S.C. Upon completion, the facility will be the largest industrial complex in the Charleston market.
The developer acquired the site for the project last December and plans to deliver the industrial building by the third quarter of 2023. Palmetto Logistics Center will take shape within the North Charleston submarket, on 104 acres along Palmetto Commerce Parkway.
The single-building property will feature 40-foot clear heights, a 185-foot truck court and 25 dock-high doors along with two drive-in doors on each loading side. The cross-dock-designed Palmetto Logistics Center will also have ample parking with 986 car parking spaces and 471 trailer spaces.
The facility will be within 5 miles of the Charleston International Airport and less than 3 miles from Interstate 26, which provides direct access to the Port of Charleston. The North Charleston submarket is home to several noteworthy tenants, such as Mercedes Benz, Boeing, Amazon and FedEx.
The largest Charleston industrial submarket
Last year, North Charleston was the leading submarket in the metro, with an industrial inventory totaling 19.2 million square feet and a 5.9 percent vacancy, according to Colliers data.
In the Charleston market, Dalfen Industrial is also in the process of developing Eastport Distribution Center, a two-building industrial park totaling 552,240 square feet in Summerville, S.C. A 229,840-square-foot facility is expected to come online in the last quarter of 2022, while the larger 322,400-square-foot building is anticipated to come online in the second quarter of 2023.
Based on the press release, Dalfen Industrial has a 9.4 million-square-foot industrial pipeline across the U.S. The company is also an active investor. In November, Dalfen Industrial purchased Century Center, a 169,700-square-foot Class A industrial building in Irving, Texas. Forethought Life Insurance Co. provided acquisition financing for the fully leased facility.