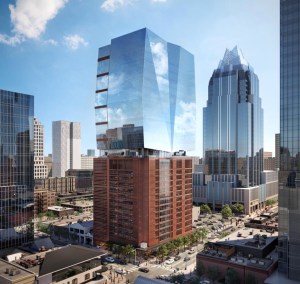 Brandywine Realty Trust has landed another notable tenant for 405 Colorado, a Class A office tower totaling 205,803 square feet in Austin's CBD. Cushman & Wakefield signed an 18,005-square-foot lease and will occupy an entire floor of the LEED Silver-certified building.
After spending more than a decade at its current location, the international real estate services firm plans to finalize its relocation from 200 W. Cesar Chavez St. in January and will occupy the 23rd floor, below the two levels housing JPMorgan Chase.
The tenant roster for the 25-story high-rise includes Snap Inc., the parent company of instant messaging app Snapchat, which agreed to occupy two floors of the building totaling approximately 38,000 square feet in early 2022. The office tower is also home to law firm Perkins Coie and investment management firm AllianceBernstein, according to CommercialEdge.
As of May, the office vacancy rate across the Austin metro increased by 20 basis points month-over-month to 15.6 percent, CommercialEdge data shows. While this figure is slightly above the national average (15.4 percent), it represents a 90-basis-point drop compared to May 2021. In the same period, the average office vacancy rate in downtown Austin reached 14.8 percent.
While the tenant opted for in-house representation with Cushman & Wakefield Director Richard Whiteley leading the lease negotiations, the landlord was represented by CBRE Executive Vice President Troy Holme and Senior Vice Presidents Katie Ekstrom and Casey Ford, according to the Austin Business Journal. Currently, 405 Colorado is 91 percent leased, but it is expected to become fully occupied in the course of the upcoming month, Holme told the same publication.
A Class A office tower in downtown Austin
Completed in 2021, the office tower at 401-405 Colorado St. features floorplates between 17,238 and 19,087 square feet sitting on top of a sky lounge on the 14th floor as well as 13 levels of parking and a 3,665-square-foot retail space on the ground floor. The structured parking section offers a ratio of 2.6 spaces per 1,000 square feet as well as bike storage.
Designed by Duda|Paine Architects, the amenity-rich high-rise features a ground-floor lobby, a conference center, a café and bar area, a fitness center, end-of-trip facilities along with an outdoor deck. Cushman & Wakefield through its Project and Development Services team headed by Senior Director Eric Smith plans to tailor the leased office space with the help of IA Architects along with NOVO Construction, which will serve as general contractor.