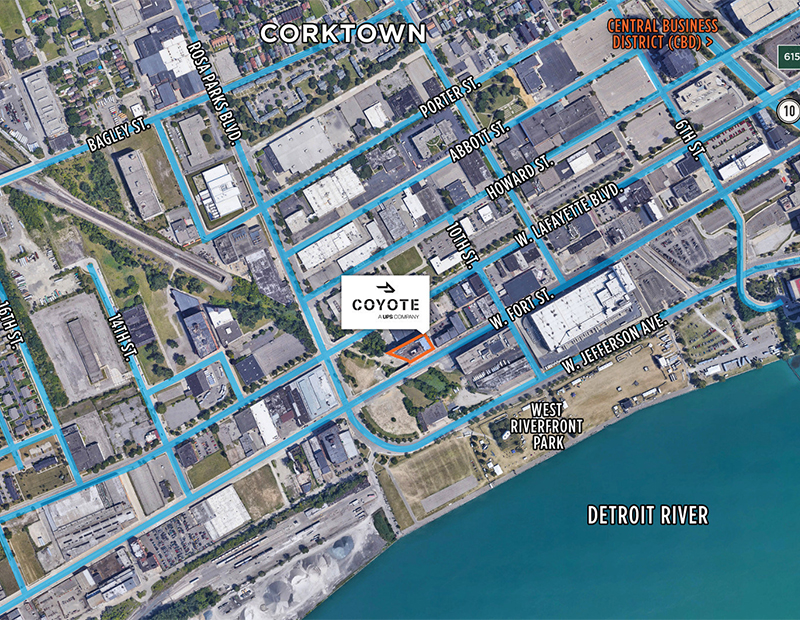 Chicago-based Coyote Logistics has paved the way for its expansion to Detroit. The global third-party logistics provider recently committed to opening its new tech hub in 58,000 square feet of office space at The Assembly, a 160,000-square-foot, mixed-use development in downtown Detroit's Corktown neighborhood.
"Detroit's growing reputation as the Midwest's hub for technology and innovation was a huge draw as we looked to expand Coyote's operations," John Perkovich, vice president with Coyote Logistics, said in a prepared statement.
Coyote will occupy the second and third floors of The Assembly, which is Bedrock's new incarnation of a warehouse originally developed for dry goods and wholesale business Edson, Moore & Co. in 1913. The five-story building at 1700 W. Fort St. features a total of approximately 79,300 square feet of office space, 7,800 square feet of retail space and 32 apartment units.
Coyote will move in at The Assembly in the third quarter of 2019. The space will accommodate 500 employees, 350 of which will be new hires.
Tech town emerging
The Motor City continues to evolve from its roots as the country's car capital as it focuses on other industries, including technology, and the office market is seeing the benefit.
"Detroit has become a hub for tech companies that are locating to our region due to our talent pool, affordability, low operation costs, the synergy with automotive, start-ups and tech related companies," Amber Goodwin, senior research analyst with Colliers International, noted in a third quarter 2018 report.
Additionally, firms already based in Detroit will add to the city's tech footprint in 2019. Per a survey from professional services firm Accenture, 86 percent of metro Detroit companies plan to expand their tech workforce this year, and 20 percent will increase their tech workforce by more than 50 percent over new additions made in 2018.
Images courtesy of Bedrock