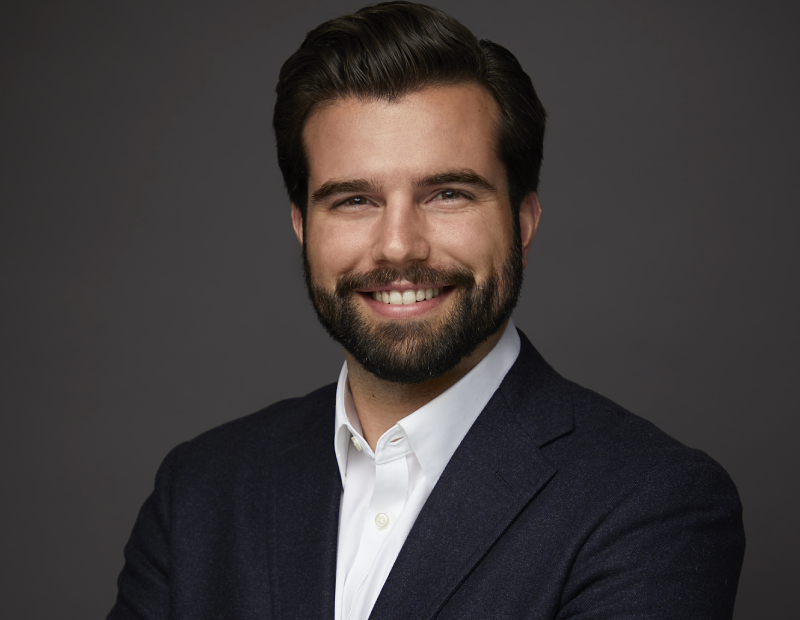 Flexible workspace options are playing an increasingly important role in office operator and occupier strategies. Many mid-sized and large companies "want to consume real estate that delivers both flexibility to their business strategy and high levels of experience for their employees," Nick LiVigne, head of product for Convene, told Commercial Property Executive. As for amenity packages, he says that employees and employers are less focused than they once were on familiar features like ping pong tables. Instead, he observes, "It's about how a company shows they care for their employees by investing in their wellness."
After its recent expansion to Washington, D.C., Convene, a company that partners with landlords to design and service a network of hospitality-driven locations in Class A office buildings, plans to go international. LiVigne recently shared his thoughts on trends in flexible office space and what's ahead.
---
READ ALSO: Convene Expands Manhattan Footprint
---
Convene recently expanded into Washington, D.C., with two locations, increasing the company's footprint in the D.C. metro area to roughly 200,000 square feet. What other opportunities does this market offer?
LiVigne: People come to Washington, D.C., from all over the world to make crucial decisions and engage in impactful discussions. The region offers the opportunity to provide thoughtfully designed working environments that are not only functional, but inspirational and have the flexibility to serve the needs of a variety of organizations from government agencies to technology companies.
Although recent news seem to indicate that coworking is peaking in the market, the numbers show that it's just getting started. Nonprofit organizations and government contract work are especially suited to flexible term and shared service workspace. And as the D.C. region continues to emerge as an innovation and technology hub, the talent these companies are looking to attract and retain is driving demand for premium workplaces.
Convene has grown to 600 people in 27 locations in about 10 years. What other markets are you scouting for further expansion?
LiVigne: We're opening our first international location in London, in 2020. We hope to have a presence in all major global cities by 2022.

What are the biggest challenges you encountered in the flexible workspace business?
LiVigne: We find that the number one reason for turndown of business is that a company would rather take a traditional lease and operate the space themselves. Part of the challenge for any flexible workspace business is market education on the value of flexible workspace versus the traditional lease and operating model. Mid-sized and large companies may view flexible workspace as a product for startups and small companies, but it's well positioned to serve companies of all sizes to meet a variety of real estate and experience objectives.
Another challenge is the build, buy or partner debate happening within the landlord community. Landlords are experiencing the shift to flexible workspace and need to participate. Some have chosen to go it alone, while others have chosen to partner with us to deliver flexible workspace and even full-building experience activation.
Last year, Convene launched a new product for Class A office landlords and owners. How is such a model impacting the industry?
LiVigne: Our workplace product sits at the confluence of the shared economy and the experience economy. These are often competing forces which are solved through our product. This is impacting the supply side and the demand side of the industry.
What are the most wanted amenities in office properties? How have they changed in the past years?
LiVigne: We've seen a shift from collaborative space as the most in-demand amenity in offices to wellness. Studies have shown that investing in wellness programs brings a significant return in healthier and more productive employees, not to mention they result in reduced stress and increased employee engagement. Employers who embrace the connection of wellness and work by investing in their employees' health are delivering what today's top talent wants.
Convene is incorporating wellness in various ways. Equally important is our culinary program, which emphasizes fresh, seasonal meals to fuel the mind and the body and our community programming that brings yoga, meditation and inspirational speakers to our spaces.

How has the digital world changed the commercial real estate industry?
LiVigne: There are a number of stand-alone digital solutions to solve the pain points of the workday including reservation platforms, engagement apps and visitor management systems, but we haven't seen a stitched-together operating system that delivers a frictionless workday, so we're building it. We're investing in technology at a rate higher than most real estate organizations because we believe that technology will make our members' lives easier.
How do you think the flexible office space industry is going to look in a few years?
LiVigne: We can see a world where we're able to deliver our high-touch experience to an entire building. Like with workplace technology, there are disparate and disconnected experiences within one building: security, fitness center, flexible office, meeting space, club, lounge, which are all managed by separate parties. What if all of those services were provided through a unified experience platform? A member could seamlessly plug into whichever experience they want, on demand. Flexible providers will continue to build more capabilities and partnerships to serve our members in more spaces and more ways.