By Scott Baltic, Contributing Editor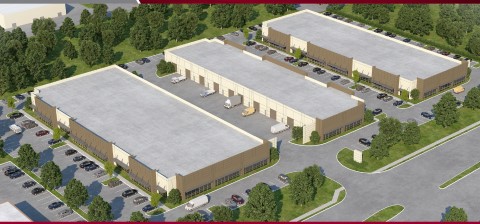 Dallas—Local developer JaRyCo has begun construction on Tech Center One, a 38,000-square-foot office/warehouse building in Allen, Texas, it was announced late last week by the Allen Economic Development Corp. The speculative building is the first phase of an office/warehouse complex at Greenville Avenue and Bethany Drive in Allen.
Completion of the first building is expected in August. Two additional building are planned, for a total of 94,000 square feet on the 6.5-acre site, known as Tech Center on Greenville. The official groundbreaking event took place at the end of last week.
"We know there's a demand for this type of product," Bruce Heller, president of JaRyCo, said in a prepared statement. "As we were in the leasing process for another office project in Allen, we heard from a number of businesses that were looking for an option that offered both office or showroom and warehouse space together. There just wasn't anything like that in the city, and that's when we saw the need."
Office/warehouse combinations are available in other parts of the metroplex, including Plano and Richardson, he added, but most of those complexes were built ten to 15 years ago and lack current amenities. The buildings at Tech Center on Greenville will feature higher energy efficiency, higher parking ratios, increased window area, LED site lighting and a landscaped campus close to restaurants, child care and workout facilities, Heller told Commercial Property Executive.
"We've come up with a space that has an attractive look in front for the office user, along with that storage space they need in the back," Heller said in the statement. "We're talking about simple overhead doors that come to the parking level so companies can drive vehicles in for easy loading and unloading, or parking service trucks at night."
"There is strong demand from companies that are currently located in other cities, but their executives live in Allen," AEDC executive director Dan Bowman said in the statement. "They'd prefer a shorter commute and access to restaurants just down the road at Watters Creek."
In addition to relocations, JaRyCo is targeting companies looking to consolidate their office and warehouse facilities, such as companies that are primarily office, but distribute product from their location, Heller told CPE.
Lee & Associates DFW's George Tanghongs and Brett Lewis are marketing the property. The general contractor is ICI Construction, of Addison, Texas.
"The DFW industrial market is expected to continue to perform well in 2016," according to a fourth-quarter 2015 report from Transwestern. "Though construction levels remain high, vacancies remain below historic norms, due to the economic stability throughout the DFW metroplex and strong fundamentals of the overall marketplace."
The Allen/McKinney submarket has about 2.4 million square feet of high-tech/flex space, out of a total industrial inventory of 11.5 million square feet. Only 174,000 square feet of the 2.4 million was vacant in the fourth quarter, for a vacancy rate of just 7.3 percent, with no additional space under way at that time, per Transwestern.