Origination Volume Index; 2001 Quarterly Average = 100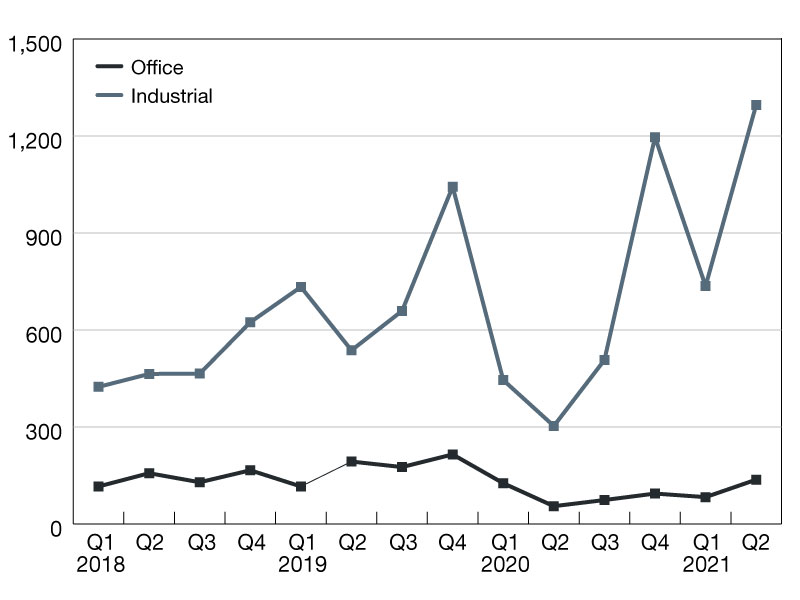 What a difference a year makes.
Commercial mortgage loan originations were 106 percent higher in the second quarter of 2021 compared to a year ago and increased 66 percent from the first quarter of 2021, according to the second-quarter 2021 release of the Mortgage Bankers Association's (MBA) Quarterly Survey of Commercial/Multifamily Mortgage Bankers Originations.
Mortgage originations doubled compared to the second quarter of 2020, when loan demand cratered, and pandemic-related uncertainty made extending credit difficult. All property types showed a year-over-year increase in the second quarter, and among investor types, only the dollar volume of loans for the GSEs decreased.
Significant differences still exist between property types. Originations for office properties increased 149 percent on an annual basis and 65 percent compared to the first quarter of this year. Originations of loans backed by industrial properties hit second-quarter records.
The jump in borrowing and lending this spring and early summer was noteworthy–especially when you consider that second-quarter activity was 1 percent higher than the second quarter of 2019, which was a record year for originations. MBA now expects commercial mortgage bankers to close $578 billion of loans backed by income-producing properties this year, a 31 percent increase from 2020's volume of $442 billion.
---
Jamie Woodwell is the Mortgage Bankers Association's vice president of commercial real estate research.