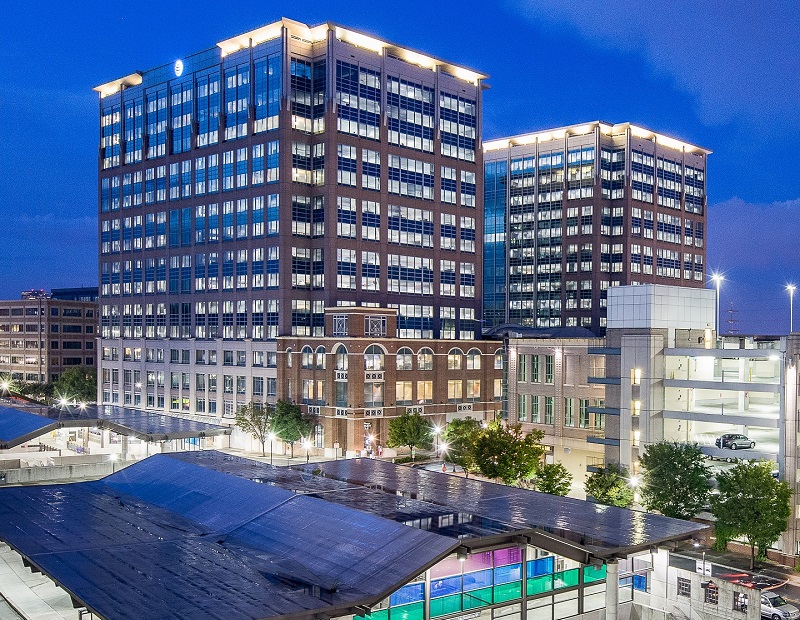 Real estate investment firm Rubenstein Partners LP has teamed up with Monarch Alternative Capital LP to purchase Lindbergh Center, a 1.1 million-square-foot office asset in the metro's Buckhead submarket, for $187 million. The joint venture acquired the asset from Columbia Property Trust, which has exited the Atlanta market through the sale, following its disposition of a $227.5 million portfolio in April.
The REIT had purchased the property in July 2008 for $285 million from AT&T, according to Yardi Matrix. Located at 575 Morosgo Drive NE, Lindbergh Center comprises two 14-story towers fully leased by AT&T through the end of next year. In addition to the buildings' office space, the property encompasses 33,482 square feet of street-level retail space.
Built in 2002, the asset forms part of the 47-acre Lindbergh City Center development and is situated alongside Lindbergh Center Transit Station, one of the busiest stops within the Metropolitan Atlanta Rapid Transit Authority (MARTA) system.
Improving a transit-oriented asset
Rubenstein Partners said in a statement that the partners plan an extensive capital improvement program, including adding new retailers, introducing art and special design elements, and improving the existing green spaces and event programming. The companies will work with MARTA to enhance the property, which sits adjacent to the transit authority's headquarters.
A Cushman & Wakefield team led by Stewart Calhoun, David Meline and Samir Idris and Adam Spies represented Columbia Property Trust in the deal. Mack Real Estate Credit Strategies (MRECS) provided first mortgage debt financing. The floating-rate loan, secured by Mike Ryan, Brian Linnihan, and Richard Henry of Cushman & Wakefield's Equity, Debt & Structured Finance team, is structured with future funding for renovations and improvements.
Columbia Property Trust has traded nearly 6 million square feet of office properties in the past three years, per data from Yardi Matrix, as part of the REIT's shift to focus on a small number of gateway markets. The deal leaves the trust with approximately 7.2 million square feet nationwide, with nearly all located in the Manhattan, San Francisco, Los Angeles, Boston and Washington, D.C., metros.