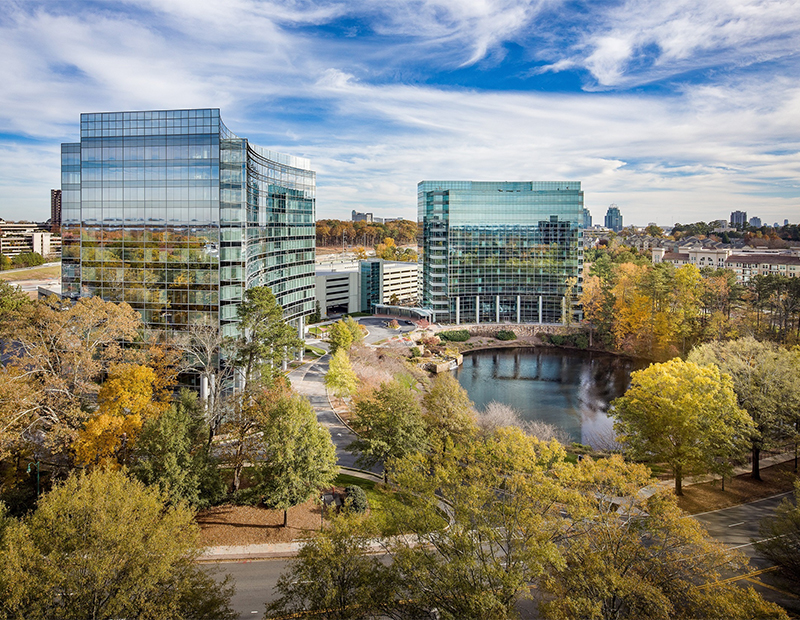 Columbia Property Trust continues to reshape its portfolio with the disposition of One and Three Glenlake Parkway, an approximately 700,000-square-foot office campus in Atlanta. The REIT sold the buildings in a $227.5 million transaction.
The 351,000-square-foot tower at One Glenlake first opened its doors in 2002, while Three Glenlake came along in 2008, offering 355,000 square feet. Columbia had acquired both buildings from Granite Properties, purchasing One Glenlake for $80 million in 2004 and buying Three Glenlake for $105.9 million in 2008. Under Columbia's ownership, the Glenlake buildings were given new life.
"A couple of years ago, we added amenities and other improvements to One Glenlake and upgraded the outdoor common spaces shared by both buildings. As a result, we leased all remaining space in both buildings, including a lease with Arby's for all of Three Glenlake," Nelson Mills, CEO of Columbia Property Trust Inc., told Commercial Property Executive. "With the project now 100 percent leased, we felt the sale aligned perfectly with our overall portfolio strategy and long-term focus on select gateway cities."
Refocusing strategy

The sale of One and Three Glenlake brings Columbia one step closer to completing its exit from Atlanta, a non-core market for the company. "Over the past five years, we have executed a very deliberate transformation of our portfolio, selling approximately $4 billion of our legacy properties and reinvesting the bulk of those proceeds in our target markets of New York City, San Francisco and Washington D.C.," Mills said.
Columbia is currently marketing for sale its last Atlanta property, the 955,000-square-foot Lindbergh Center. The REIT will also eliminate its Pittsburgh footprint once it secures a buyer for the 824,000-square-foot Cranberry Woods office complex in Cranberry Township, Pa.