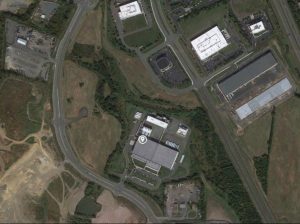 Another Northern Virginia data center has changed hands, in what is already a hot month for the market. Cloud Capital has acquired a 19-megawatt facility in Manassas, Va., for $222.5 million from Corporate Office Property Trust. The buyer, an affiliate of CloudHQ, acted through an investment vehicle.
The facility, named COPT-DC6, is situated at 9651 Hornbaker Road. The two-level structure offers 100,000 square feet of raised floor space and up to 275 watts per usable square foot. Tenants also have access to four dark fiber providers and 20 carriers. Dedicated connections to main cloud peering platforms in Ashburn, Va., are also available. The data center is LEED Gold certified and qualified as a Tier III facility.
According to CommercialEdge, the property last traded in 2010, when COPT acquired it for $113.3 million. COPT plans to use the proceeds from the sale to further fund its 1.8 million square feet of development. The company recently announced a new project, estimated at $103 million, in Huntsville, Ala.
Staying on top
Recent research published by Cushman & Wakefield positioned Northern Virginia as the number one data center market for the third consecutive year. The report analyzed worldwide markets by several metrics, from high-importance factors such as cloud and fiber connectivity, to lower importance items including power costs and land prices. Northern Virginia and Singapore were the only markets that reached a vacancy of under 2 percent in 2021, highlighting the extreme demand for more digital infrastructure.
The year started out in full swing for the market. Earlier this month, a joint venture of American Real Estate Partners and Harrison Street announced a $1 billion commitment to build data centers in Ashburn and Arcola, Va., planning to add as much as 2.1 million square feet of new space.
STACK Infrastructure also announced plans to build an 80-acre campus in Sterling, Va., with the first phase estimated to come online in 2023. The three-building project is expected to offer up to 216 megawatts upon completion.