The delicate balance between water and weather—between evaporation and precipitation—has been seriously affected in the past decades. Climate change is essentially a water story—droughts and wildfires, melting glaciers and floods, sea-level rise and storms—it all comes down to water.
You must have noticed how, in recent years, winters take longer to arrive but when they do, they just unload tons of snow over cities, in massive blizzards that paralyze entire communities. Meanwhile, the warm seasons turn hotter and drier, almost defined by wildfires and droughts.
A recent map from the drought monitor shows that 90 percent of the West—California, Nevada, Arizona, New Mexico, Utah, Oregon, Washington, Idaho and Montana—is in a drought. More so, about half of the region falls under "severe" or "exceptional" conditions. Even more so, Colorado, Wyoming, southwestern Texas, along with North and South Dakota, are also seriously affected by drought.
A tool that can help alleviate the deepening water issues is technology. And examples exist. Not long ago, Multi-Housing News talked about converting wastewater into natural, carbon-rich soil and water that can be recycled for toilet flushing, irrigation and other non-potable uses. In the interview below, Banyan Water CEO Gillan Taddune returned with updates after our last discussion in early 2020. Her company is a provider of data-driven water conservation solutions based in Texas.
It's been more than a year and a pandemic since we last spoke. How have things been for you at Banyan?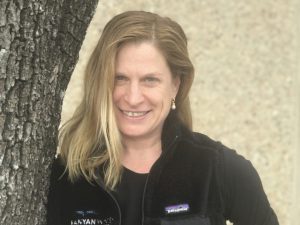 Taddune: The pandemic was difficult for everyone and every business. But water usage, scarcity and reduction, continue to be important issues, whether we're experiencing a global pandemic or not.
I'm glad we continued to meet demands to reduce water consumption with data-driven water conservation strategies during the last 18 months. Banyan's technology provided property managers with real-time visibility into their water systems remotely when they couldn't be on-site.
Let's talk about Banyan's most recent analysis across its 2020 portfolio of properties. What are the key takeaways?
Taddune: The 2021 Water Analysis Trends and Emerging Risk report analyzes data from Banyan's portfolio of properties in 2020, identifying major enterprise-level water risks jeopardizing large-scale conservation amid historic droughts. The report also reveals the millions of dollars in hidden costs properties face due to water mismanagement, coupled with rising regional water rates. Some of the key takeaways include:
Water leaks critically impact enterprise-level risk: Banyan identified—and stopped—more than 505 leaks, preventing more than 5.1 million gallons of water waste.
Regional rainfall amounts vary, posing challenges: Fluctuations in average daily rainfall resulted in unpredictable water supply and demand, complicating property management and increasing the risk of loss.
Rising regional water rates drive property expenses: Banyan reported an increase in yearly water rates across several regions of the U.S.—as much as a 7.6 percent increase in rates year-over-year—and highlighted significant rate increases in Houston.
Unpredictable water flow rates lead to unforeseen costs: Existing buildings and local infrastructure are not standardized across the U.S., making it difficult to anticipate water-related expenses throughout a property's lifetime.
In light of recent efforts to raise awareness on climate change, did you notice any positive change in water conservation?
Taddune: There has been positive movement in the effort to conserve water globally, but not nearly enough. More businesses need to embrace water conservation.
Energy typically consumes more of a business's utility bill than water, so property managers can overlook water as a cost-saving center and take it for granted as a critical resource to be protected. I'd like to see more urgency around global water reduction. That will always be my opinion until water scarcity is truly eradicated.
Which water conservation methods are most popular today for commercial users?
Taddune: Xeriscaping has become particularly popular in desert climates. We've also seen increased adoption of indoor and outdoor leak detection technology. Smart faucets, showerheads, toilets and other water-saving appliances are also more prevalent today on commercial and residential campuses.
---
READ ALSO: 10 Top Projects in LEED's Leading States
---
What can you tell us about the legislation pertaining to water conservation? What would you want to change about the current legislation?
Taddune: President Joe Biden's infrastructure plan outlines key updates to countrywide piping that could greatly improve the country's overall structural integrity—a crucial upgrade that will prevent infrastructure leaks from wasting massive amounts of water, such as the 6 billion gallons of treated water wasted each day from water main breaks.
Infrastructure upgrades also trickle down to local utilities, and ultimately to the customer, driving behavioral changes in water consumption across commercial and residential property managers. We're also seeing cities like Las Vegas implement water-saving policies like restrictions or full bans on nonfunctional grass.
I'd like to see the implementation of mandatory resource usage reporting at the local level. Without insight into water consumption, how can a property manager know how much water they are using or wasting, and how to fix it? Mandatory reporting or federal resource tracking could enable good water use behavior and ultimately provide more visibility to governing bodies hoping to implement water-conservation measures throughout their communities.
Where are we today with water recycling? How much of the used water in urban areas is being recycled and how can this percentage be improved?
Taddune: Water recycling is an incredibly effective optimization method for resource consumption. We've seen it in action with partners like HP on their Palo Alto campus in partnership with Stantec.
However, it's not as pervasive as it should be. This is a huge area of opportunity for federal legislation or local policy implementation. Today, it's the exception, not the norm. The majority of properties throughout the U.S. are using potable water to irrigate—changing that fact could be a very promising public policy.
Like anything in demand, water scarcity leads to increasing rates across regions. Do increased prices help mitigate water issues. Do they prompt users to consume less?
Taddune: As much as I'd like to see businesses conserve water as a sheer measure of social responsibility, the reality is that business leaders are driven by cost. Cost efficiency, cost reduction, cost optimization. That includes evaluating their resource consumption.
Water is an incredibly undervalued resource that costs significantly less compared to other highly valued expenses. If water rates increase, it will drive and support the behavioral changes needed to reduce water consumption.
But costs won't drastically change unless federal- or state-level updates to infrastructure, rates or incentives evolve. We're already seeing examples of this come to life. For example, in Houston, the city agreed to upgrade its infrastructure in exchange for federal funds, ultimately causing an increase in water rates for the city's inhabitants. According to Banyan's 2021 W.A.T.E.R. Report, Houston's commercial water users could anticipate paying more than 275 percent more for 1,000 gallons of water by 2026, compared to 2003.
---
READ ALSO: Building the Best Ideas for Climate Change Strategies
---
Speaking of Houston, how is Texas responding to water scarcity?
Taddune: The vast majority of businesses we work with in Texas have some level of water restriction in place for their properties—and not just during the summer. Many are operating in year-round restrictions. For example, Austin—where Banyan is headquartered—is currently in "Conservation Stage Water Use Restrictions."
Commercial and residential properties are under strict watering schedules for hose-end sprinklers or automatic irrigation. It's a lot to manage and keep track of as a property manager and many don't have real-time visibility into their water usage to start.
We can track usage in real-time, shut water off remotely and detect leaks before they become a detrimental resource loss for a property. The enforcement of such restrictions can be financially burdensome for many businesses.
How are portfolio managers adapting to mitigate water risk?
Taddune: Put simply, corporations can no longer put water management on the back burner. Insights from our report underscore the importance of Banyan's data-first water management system that eliminates costly risks for U.S. enterprises.
Properties partnering with Banyan are experiencing up to 70 percent savings in water consumption. That is game-changing for enterprises. We believe enterprises will play one of the most pivotal roles in reducing the world's water consumption—and it starts with adopting smart technology that enables property managers to take total control of their enterprise's resource usage.
What is needed to boost the adoption of water conservation technology?
Taddune: The steep rise in water rates, pervasive drought conditions and an ever-increasing global population are driving critical demand to reduce water usage. While federal legislation can help enforce water restrictions and conservation measures, enterprise leaders must step up and recognize the role their property footprints play in overall water usage and waste.
Water is more than a utility that can drive asset value. It is our livelihood, and it deserves to be prioritized.