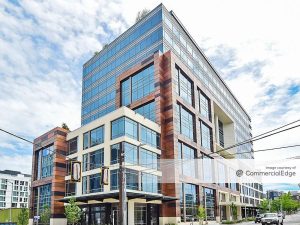 Alexandria Real Estate Equities has completed the sale of a 70 percent stake in The Alexandria Center, a Class A life science asset totaling 290,111 square feet in Seattle. Clarion Partners paid $364 million for the majority interest in an off-market transaction facilitated by Newmark.
The sale equates to $1,255 per square foot, which is the second-highest price per square foot for any Seattle life science asset, according to Newmark. The property was fully leased at the time of the transaction.
---
READ ALSO: New Dawn for Life Sciences Real Estate
---
Developed by the current seller in 2017, the 12-story property is located at 400 Dexter Ave. N., within the city's Lake Union submarket. The LEED Gold and Fitwell-certified building was designed by Collins Woerman.
The office and biotech research space served as Juno Therapeutics' global headquarters until 2019, when the company was acquired by Bristol Myers Squibb, now the anchor tenant. The mid-rise is also home to Alexandria and The Collective, a social club that provides fitness facilities, a restaurant and an artist-in-residence studio, among other spaces and amenities.
Alexandria Center's list of notable neighbors includes the Amazon-anchored 400 Ninth Ave., as well as the Bill & Melinda Gates Foundation. The property is less than 2 miles from downtown Seattle.
Seattle, a booming life sciences hub
A recent JLL report evaluating 110 U.S. markets named Seattle-Tacoma-Bellevue as the top metropolitan area in terms of life science employment acceleration. Venture capital coming into life sciences in the Puget Sound area reached $1.1 billion in the first quarter of 2021, marking a 300 percent year-over-year growth, according to Newmark research.
In April, a partnership between Trammell Crow Co. and Washington Capital Management sold a life science development in downtown Seattle only months after its completion. Boren Lofts traded for $119.1 million.