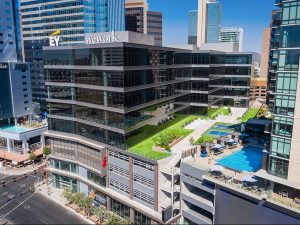 City Office REIT Inc. has paid $150 million for the office component of Block 23 at CityScape, a 1.3 million-square-foot mixed-use destination in downtown Phoenix.
RED Development was the seller of the Class A property that was 95.5 percent leased upon closing. JLL represented the seller and procured the buyer.
The deal closed at $488.60 per square foot, the highest per-square-foot price recorded in 2021 for a Phoenix multi-tenant office property. According to a recent CommercialEdge report, office sales averaged $220 per square foot across the metro year-to-date as of November.
CommercialEdge data also shows this transaction was the Valley's highest-priced office sale of 2021 so far. Notable deals include the $132 million sale of two Rio 2100 buildings and the $117.5 million sale of Fountainhead Office Plaza, both of which closed in Tempe, Ariz. The metro's total transaction volume at the end of November amounted to nearly $1.9 billion.
Offices at Block 23
Located at 101 E. Washington St., the nine-story office building came online in 2019 in the final phase of development of the live-work-play property that also comprises a 332-unit residential building and 13,000 square feet of retail.
Block 23 features 307,030 square feet of office space with floorplans averaging some 45,000 square feet, among the largest in downtown Phoenix, as well as the 67,000-square-foot Fry's Fresh Marketplace, which is downtown's only full-service grocer. Amenities include a 19,000-square-foot rooftop deck, pickleball court and sky lobby, as well as a three-level parking garage.
The building is home to a wide array of tenants including Western Alliance Bank, Ernst & Young and Chase, among others. Western Alliance leased some 45,500 square feet at the location in June in one of the Valley's largest office leases since the onset of the pandemic.
Block 23 is adjacent to CityScape Phoenix, a 1.2 million-square-foot mixed-use property owned by RED Development, that also witnessed a Western Alliance office lease this year. The location is directly across from the Phoenix Suns Arena and close to the Arizona Diamondbacks Stadium.
JLL Senior Director Ben Geelan and Executive Managing Director Kevin MacKenzie led the Capital Markets team that assisted the seller in the disposition. In addition, JLL Managing Director Ryan Timpani and Director Nick Bialkowski represented RED Development on the leasing of Block 23.