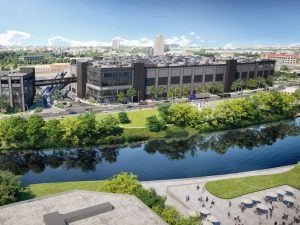 Logistics Property Co. is positioned to move forward with the development of 1237 West Division, the first multi-story industrial project to be built in Chicago, now that it has cleared two vital hurdles. The company has completed the acquisition of land for the logistics campus and secured the city council's approval for the approximately 600,000-square-foot, last-mile facility.
The property at 1237 W. Division St. will have a prime position in Chicago's increasingly coveted Goose Island industrial neighborhood, roughly 15 miles from Chicago O'Hare International Airport. The 11.5-acre site at the intersection of Division Street and Elston Avenue, just off Interstate 90, had been home to the former Peoples Gas manufactured gas plant.
---
READ ALSO: Industrial Sector Reaches Supply Momentum
---
Many in the community had already given 1237 West Division their backing in advance of the council's official greenlighting of the project. "We are especially encouraged by the incredible economic benefits the project would generate, namely a $250 million overall investment, the creation of between 600 and 800 high-quality jobs and approximately 750 to 1,000 construction jobs," Steve Simmons, Director of Business and Economic Development with community development corporation North Branch Works, wrote in an Apr. 18, 2022, letter of support to the Chicago Plan Commission.
First look
Each floor of the two-story 1237 West Division will feature more than 250,000 square feet of logistics space, as well as 50,000 square feet of Class A office. The first floor will offer 36-foot clear heights, and the second floor will feature 33-foot clear heights, while both will include 28 dock doors and two drive-in doors each. The property will also include ample parking in the form of a rooftop facility and an adjacent, five-story garage.
Ware Malcomb is the architect behind the design of 1237 West Division, which will also offer some amenities not oft found at the traditional industrial property. The project's parking options will include bicycle parking as well as accommodations for electric vehicles. Additionally, the property will feature a live landscape wall and public art on the frontages.
Natural progression
The state of the industrial market lends itself well to vertical expansion in industrial development. "With growth in occupiers' net absorption of space high, the number one constraint is a lack of land," Rich Thompson, Global Leader of Supply Chain & Logistics Solutions at JLL, remarked in a January research note by the firm. "Developers are struggling to secure suitable development land and planning permission. It's why the coming years will see more developers look to multi-story schemes, particularly in land constrained, urban areas."
LPC has tapped Walsh Construction and Riteway-Huggins Construction to serve as general contractors for 1237 West Division. JLL's Michael Conway Leslie Lanne, Dan McGillicuddy and Gavin Stainthorpe will spearhead leasing and marketing for the industrial development.