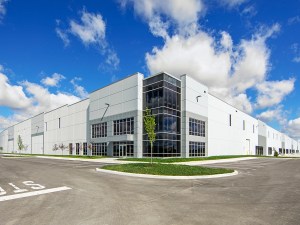 Calling the location outside Indianapolis a key transportation hub, a fund sponsored by CBRE Global Investors has acquired a newly constructed 505,872-square-foot Class A warehouse/distribution property in Greenfield, Ind. The property, known as Mount Comfort Logistics Center II, was completed in the first quarter and is fully leased.
---
READ ALSO: Top 5 Markets for Industrial Construction
---
The price and seller were not disclosed by CBRE Global Investors. The developer and most recent owner of the property at 4268 West County Road 300 N. was Ambrose Property Group, according to CommercialEdge. In early June, Ambrose stated Progressive Logistics would be leasing the newly built site in the business park. At that time, Progressive Logistics officials said the state-of-the-art climate-controlled facility would allow it to grow its food-related and e-commerce business.
Ambrose also announced it would be expanding the park with four more Class A distribution buildings on a newly created east campus. When that expansion is completed, Ambrose will have developed eight Class A distribution buildings totaling more than 3.5 million square feet at the Mount Comfort Logistics Center.
Property details
Mount Comfort Logistics Center II sits on a 42.78-acre site and features 36-foot clear height; 54-foot by 50-foot column spacing; 50 dock doors, with the ability to add 80 more dock doors; three drive-in doors; 50 trailer parking spaces, with an option to add 83 more spaces; and 155 auto parking spaces. The facility can also add more than 200,000 square feet to accommodate potential tenant expansion.
Gary Jaye, head of Americas Logistics Operator Division for CBRE Global Investors, said in a prepared statement Mount Comfort is in an extremely well-located site on the east side of Indianapolis that provides users access to a strong labor pool and excellent interstate connectivity. Mount Comfort is less than 25 miles east of the FedEx Air Hub at the Indianapolis International Airport and has immediate access to I-70, a major east-west highway in the U.S.
Jaye said the Indianapolis MSA has more than 330 million square feet of industrial product, with a tight vacancy rate. In addition to the FedEx Air Hub, the second-largest in the U.S., the MSA has access to five railroads and substantial freeway infrastructure, which provides access to more than 75 percent of the U.S. and Canadian population within a 24-hour drive.
The Mount Comfort submarket is one of Indianapolis' fastest-growing modern logistics submarkets. More than 5 million square feet of new users have recently opened logistics operations or committed to the Mount Carmel submarket, according to Colliers. Hancock County, where Greenfield is located, plans to spend more than $30 million in infrastructure improvements to its major thoroughfares to accommodate the needs of the modern logistics users.
In June, Exeter Property Group acquired a 52-acre site in Mount Carmel Commercial Park, also in Greenfield, from Becknell Industrial. Exeter plans to develop a 955,687-square-foot speculative warehouse on the property that will feature a 40-foot clear height, 282 trailer parks and 80 exterior docks. The building is scheduled for completion in the first quarter of 2022.
CBRE Global Investors has also been active this summer in the Orange County industrial sector. Last month, the firm acquired Irvine Crossing, a mixed-use facility in Irvine, Calif., from Menlo Equities through one of its funds. According to public records, the property sold for $180.8 million. The deal was one of the largest industrial transactions in Orange County so far this year. Amazon is one of the property tenants.