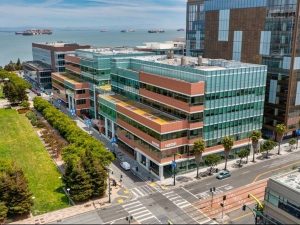 A CBRE Investment Management fund has acquired a majority stake in two life science portfolios in San Francisco through a partnership with the properties' developer. The portfolios encompass more than 1 million square feet of life science space across five Class A buildings and a ground-up development expected to break ground next year. 
The first portfolio totals 644,788 square feet across two buildings at 409-499 Illinois St., and a six-story facility at 1500 Owens St. The second portfolio includes two existing buildings at 455 Mission Bay Blvd. S. and 1700 Owens St., totaling 375,604 square feet. The third property in the portfolio, a 212,796-square-foot purpose-built life science project at 1450 Owens St. is set to break ground in the first quarter of 2022. The properties received LEED Gold and Silver certifications in 2011. The new development will also be built with LEED certification standards in mind.
Alexandria Real Estate Equities developed three of the properties between 2007 and 2009 and acquired 409-499 Illinois St. from Shorenstein in 2011. In October this year, Alexandria's partner, Nuveen Real Estate paid $274 million to become the majority stakeholder in the first portfolio, according to The Registry. The company initially acquired a 40 percent stake in the assets in 2016 and brought its ownership to 75 percent with the recent investments. 
An expensive office market
The San Francisco office market is still on the long way to recovery from last year's economic downturn. In November, the vacancy rate in the market stood at 14.8 percent, marking a 410 basis-point increase year-over-year, a recent CommercialEdge report shows.
While rental rates across the U.S. increased by an average of 1.2 percent year-over-year through November, San Francisco rents saw a 1.6 percent drop over the same period. Even so, San Francisco continues to be among the nation's most expensive office markets. The average asking price was $69.2 per square foot, outperformed only by Manhattan's $83.5 average listing price.     
Transaction activity was strong in November, with a total sales volume of nearly $3.8 billion. At an average price of $666 per square foot, San Francisco remains the priciest market in the state. This marks no change from last year, when San Francisco occupied seven of the top 10 positions for major office deals in California.