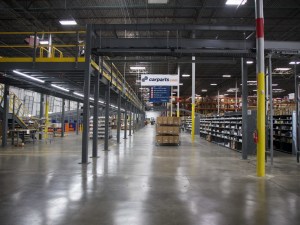 Just one year after revealing plans to open its 210,000-square-foot distribution center at 1301 Avenue T in Grand Prairie, Texas, CarParts.com Inc. has announced that it will expand operations with the addition of 156,000 square feet. The online automotive parts provider will now lease a total of 366,000 square feet at its suburban Dallas home.
---
READ ALSO: Dallas-Fort Worth Market Update: Development Holds the Line
---
"When we opened the Grand Prairie distribution center, it got close to fully utilized within just 90 days, which proved to us there is substantially more demand in the market than we could supply with only 210,000 square feet," David Meniane, COO & CFO of CarParts.com, told Commercial Property Executive. Carparts.com, then U.S. Auto Parts Network Inc., signed the original lease with Prologis in early July 2020 for a 90-month term. "Since the signing of the new expansion is so close to when we signed the initial lease, we made the expansion end concurrent with the existing lease to keep things simple; however, we do have an option to extend on both spaces," Meniane added.
CarParts.com will utilize its extra square footage to accommodate increased inventory for brand partners, as well as additional space for CarParts.com's own premium brands. The top-of-the-line distribution center allows the company to deliver parts to customers throughout the South and Southwest U.S., and with the expansion, it will also provide space for a dedicated will-call service center to offer online and commercial customers a pick-up option.
The Dallas draw
CarParts.com, like U.S. industrial market demand, is in growth mode. "With e-commerce not slowing down anytime soon and older vehicles staying on the road longer, drivers rely on CarParts.com to get them the parts they need quickly to get their vehicles back on the road," Meniane noted. The Torrance, Calif.-based company also has a warehouse presence in LaSalle, Ill., Chesapeake, Va., and Las Vegas, but found that growth in Grand Prairie was its best next move.
"We already have a home here and expanding feels like the natural next step to get closer to the customer, especially with Texas being home to many of the CarParts.com customers today," he continued. "Not to mention Dallas is one of the fastest-growing cities, there are a lot of great hard working and talented people here and we felt it was a great place to continue expanding our footprint."
Since opening its doors in Grand Prairie, CarParts.com has created more than 200 jobs in the area, and the company expects to create an additional 125 full-time positions when the expansion comes online. The new facility is on track to become fully operational in the first quarter of 2022 and will bring CarParts.com's total U.S. distribution center portfolio to more than 1 million square feet. And there's more expansion on the horizon.
"There is a misconception in the market that our growth is related to COVID-19. Actually, our first big jump in growth came with the expansion to Las Vegas in the first quarter of 2020 and our second big jump in revenues came with the expansion of Grand Prairie in the first quarter of 2021. We look forward to continuing to grow revenues by aggressively expanding our distribution footprint," said Meniane. "We believe the Grand Prairie 2 lease, along with the planned expansion into the Northeast and Southeast, will help us continue to grow revenues 20 to 25 percent per year for the foreseeable future."