By Scott Baltic, Contributing Editor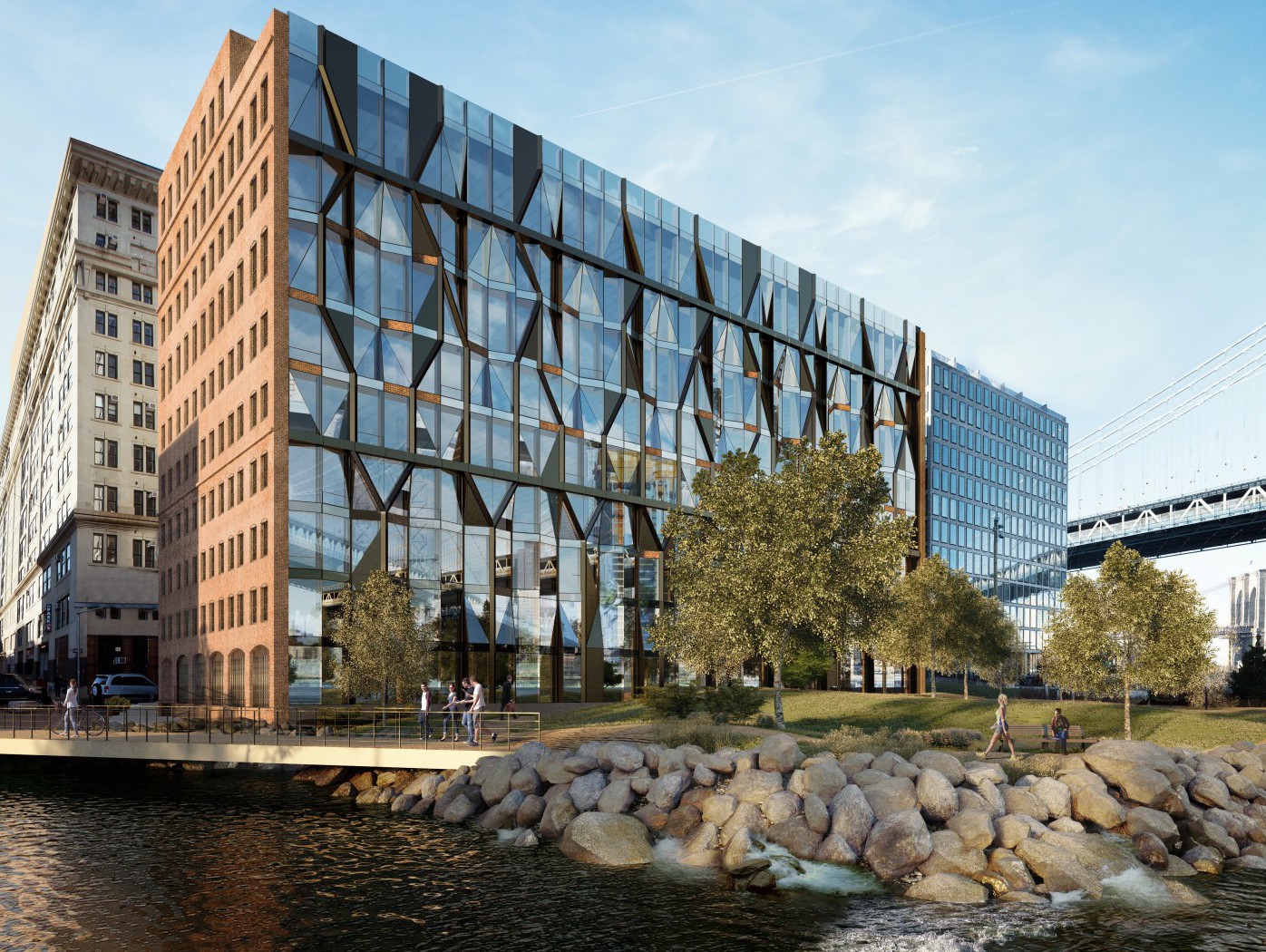 Glacier Global Partners and Triangle Assets have received $150 million in bridge financing for their redevelopment project at 10 Jay St. on the East River waterfront in Dumbo, Brooklyn. JLL's capital markets team secured the funding.
Bridge-lending specialists Acore Capital provided the loan, which will be used to repay existing debt, complete construction and fund future leasing costs at the property.
The building, which is at the entrance of the newly developed 85-acre Brooklyn Bridge Park, is a former 1890s vintage warehouse that's in the final stages of being redeveloped into a 10-story Class A mixed-use asset.
The 221,500-square-foot structure was originally used as a sugar refinery and later as a winery. Triangle Assets CEO Joseph Stavrach bought the building in 1991, and later the company renovated it floor by floor, opening it for leasing in 1994.
The renovation will feature three sides of restored 1890s red brick, brick columns, original terra-cotta barrel-vaulted ceilings, four high-speed elevators, a Class A lobby with 24/7 doorman, bicycle storage and a floor-to-ceiling glass facade facing the East River and the Manhattan skyline.
Managing Director Kellogg Gaines and Executive Vice President Aaron Niedermayer led the JLL team on the financing, along with Dustin Stolly, formerly of JLL.
The renovation is expected to be completed in October or November, a JLL spokesperson told Commercial Property Executive.
Part of a Larger Trend
"Lenders aggressively pursued this transaction, and as Brooklyn continues to attract technology, advertising, media and information (TAMI) tenants, we anticipate capital to remain available for high-end projects there," Gaines said in a prepared statement.
The property reportedly will cater to TAMI tenants, with ceiling heights ranging from 11 to 16 feet.
As reported by CPE in February 2016, gentrifying Brooklyn areas have seen demand for offices overtake that for residential projects. Ten Jay St. had in fact originally been intended for conversion into 46 residential condos, till Glacier decided to go for office space instead.