By Bogdan Odagescu, Associate Editor
Boston—Delaware North and Boston Properties recently announced the official groundbreaking of The Hub on Causeway, a 1.6 million-square-foot mixed-use development on the site of the former Boston Garden, which was demolished in 1998.
Most of the 2.5-acre site, sitting between Causeway Street, the TD Garden, North Station, and I-93, has served as surface parking during the last few years. The development is scheduled to follow a three-phase construction plan and will encompass residential, hospitality, retail and office spaces, as well as an expansion of the TD Garden arena, also owned by Delaware North.
According to the project submitted by Boston Properties to the Boston Redevelopment Authority more than two years ago, "The project will [also] serve as a gateway to Boston for those accessing the City by car from Interstate 93 or local roadways, or by public transportation and Amtrak at North Station."
The first phase of the project, which is expected to take around three years to complete, will include the following:
210,000 square feet of retail space, including restaurants, Boston's largest supermarket to date, and a cinema multiplex;
A new joint entrance for the TD Garden and North Station featuring a redesigned 10,000-square-foot outdoor area;
A 540-spot parking garage connected to the North Station garage;
A 64,000-square-foot extension for TD Garden on floors three to nine;
Around 175,000 square feet of office space.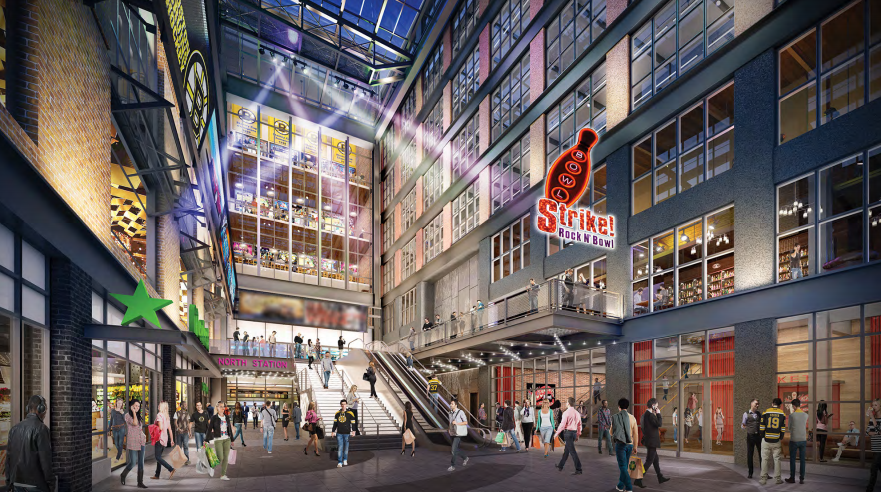 The second stage of the project will bring a 38-story tower including approximately 440 residential units and a 10-story, 260-key hotel. The third and last phase consists of a 21-story office tower, bringing more than 500,000 square feet of space to the area.
"The effort to bring a supermarket to the area is finally complete, and we are thrilled to have Star Market as our first tenant. At project completion, the development will provide numerous best-in-class retail and dining options, centered by a dynamic, breathtaking front-door entrance to TD Garden and North Station," said Charlie Jacobs, CEO of Delaware North's Boston Holdings, in prepared remarks.
Renderings courtesy of TDGarden.com / Delaware North