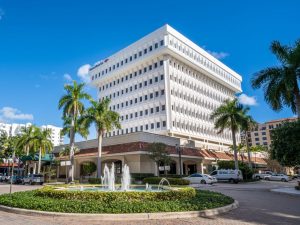 Grover Corlew has acquired Bank of America Tower, a 109,497-square-foot Class A office building in Boca Raton, Fla., for $44.6 million from Ares Management Corp. Cushman & Wakefield facilitated the off-market transaction and secured acquisition financing through Wells Fargo Bank.
The eight-story property last traded in 2015, when Black Creek Group acquired it for $35.8 million, public records show. As of July, Denver-based Black Creek Group is part of Ares Management Corp.
Notable tenants include Bank of America, which occupies 32,000 square feet, as well as Charles Schwab and Waypoint Residential, CommercialEdge data shows.
---
READ ALSO: Ares, Black Creek to Form $29B Giant
---
Bank of America Tower is located at 150 E. Palmetto Park Road and is Energy Star certified. The mid-rise property features a lobby, conference room, as well as surface and covered parking. The multi-tenant property was completed in 1970 and underwent cosmetic renovations over the years, first in 1997 and most recently in 2013, according to CommercialEdge data.
The property is within walking distance of Royal Palm Place, close to a large number of shopping and dining options. The office building is less than a mile from The Boca Raton Resort & Club, a 2.2 million-square-foot resort along Lake Boca Raton that is currently undergoing a $150 million rehabilitation.
Betting on South Florida
Grover Corlew Principal & Co-Founder Anuj Grover said in a prepared statement that the firm believes in the recovery of Boca Raton's office market. Earlier in July, Prime US REIT paid $99.5 million to acquire a 10-story Class A office building in the city.
Mark Corlew, principal & co-founder of Grover Corlew, added that Bank of America Tower will be completely reimagined, with "significant capital" invested to achieve this goal, since the metro still has unmet demand for Class A office space providing ample amenities.
The Cushman & Wakefield Capital Markets team working on the sale of Bank of America Tower included Executive Directors Dominic Montazemi and Scott O'Donnell, Vice Chair Mike Davis, Senior Director Jason Hochman and Director Ron Granite.
Earlier this month, Davis and Montazemi were also part of a team that represented the seller and secured acquisition funding for the $127 million disposition of Florida's largest warehouse.