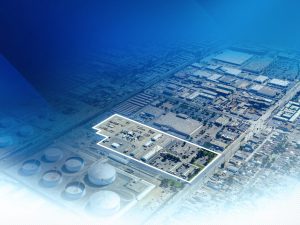 Newmark has arranged the sale of a 14.2-acre industrial development site in Long Beach, Calif., for $50.7 million. The seller was Plains All American Pipeline, a publicly traded owner and operator of energy infrastructure that provides logistics services for crude oil and natural gas. According to public records, the buyer was Link Logistics, Blackstone's industrial arm. 
A Newmark announcement described in some detail what the property, located at 5900 Cherry Ave. and zoned IG for general industrial use, could be redeveloped as. Specifically, the site reportedly has the potential for a 304,432-square-foot industrial building with 36-foot minimum clear heights, an ESFR sprinkler system, "ample truck courts and significant excess trailer parking."
Newmark Executive Managing Directors Andrew Briner, Jim Linn and Bret Hardy and Co-Head of U.S. Capital Markets Kevin Shannon represented the seller, along with Vice Chairman John McMillan and Senior Managing Director Danny Williams.
In a prepared statement, Shannon described the South Bay as "a very supply-constrained market with limited sites for comparable new development, making it well-positioned for continued rent growth."
The site is less than 5 miles from Long Beach Airport and provides quick access to the San Diego (Interstate 405), San Gabriel (Interstate 605) and Long Beach (Interstate 710) freeways. It's also roughly 20 miles from the Los Angeles International and John Wayne airports. The location is also close to North America's two busiest container ports: the ports of Long Beach and Los Angeles.
Where land meets the sea
As of year-end, the metro L.A. industrial market had the second-lowest average industrial vacancy in the nation, at 1.1 percent on an inventory of roughly 1 billion square feet, according to Newmark. In the fourth quarter, net absorption totaled 2.9 million square feet, bringing the 2021 absorption total to 13.7 million square feet, the fourth-highest year on record, the same source reported.
A big reason has been the surging pandemic-era volumes at U.S. ports, which disproportionately benefited West Coast destinations, especially Long Beach.