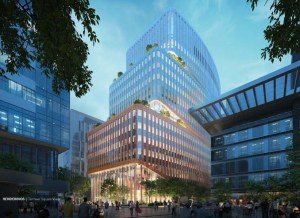 BioMed Realty has signed a 15-year deal with biopharmaceutical firm Takeda to lease an entire 600,000-square-foot research and development center to be built in Kendall Square in Cambridge, Mass.
Construction on the 16-story building at 585 Third St. will begin in 2023 and Takeda plans to occupy the space in 2026.
Cushman & Wakefield represented Takeda in the transaction.
The state-of-the-art facility will allow Takeda, the largest life science employer in Massachusetts, to create a purpose-built R&D property with modern laboratories and further expands the company's long-term strategy to create one Cambridge campus in Kendall Square. Takeda is also expanding its existing space in 650 E. Kendall to include two additional floors, making the company the sole laboratory and office tenant in the building.
---
READ ALSO: 4 Ways for Brokers to Up Their Prospecting Game
---
The goal is to unify Takeda's Global R&D center in Cambridge and co-locate R&D with businesses and other operations. The company plans to eventually transition teams from Central Square to Kendall Square over time. Takeda will maintain a presence in Lexington, Mass., as its suburban location.
Julie Kim, president of the U.S. Business Unit and U.S. country head for Takeda, said in a prepared statement the company was intentional when selecting the location at 585 Third St. because it will offer close proximity to top life science talent, while enabling the company to continue enhancing office collaboration and R&D space to support its scientific work. Kim added the goal is to build an enriching and inclusive workspace that will inspire, foster learning and innovation, harness data and digital technologies and emphasize well-being. She said the new building will also allow Takeda to advance R&D innovation while creating a workplace of the future that adopts flexible workspaces to maximize in-person interaction and connection under a hybrid working model.
Building details
The lab and office space were designed by CBT Architects. It is being designed with sustainability in mind and BioMed and Takeda expect it to achieve LEED Gold or higher designation. Rapid technological and medical innovation has led to continued demand for well-designed, mission critical life science research space concentrated in leading markets like Cambridge, Bill Kane, president, East Coast and U.K. markets for BioMed Realty, said in prepared remarks.
Kane said they look forward to working closely with the Takeda team to accelerate BioMed's commitments to sustainability and to the Cambridge community. The two companies have identified shared goals and commitments around occupant wellness, energy and water efficiency, and reduced waste to landfills. Takeda said the move to 585 Third St. will help achieve the company's ambitious environmental goals, including net-zero greenhouse gas emissions for scopes 1 and 2 before 2035, and for its entire value chain, including currently estimated scope 3 GHG emissions, before 2040.
The building has been designed to reflect the multiple uses of the property and pay homage to the maritime history of the site and the Canal District, according to BioMed. Curved facades reminiscent of the water will minimize shadow, boost sunlight and counteract wind corridors. The exterior transitions in color from the public, arts-focused first three floors to the lab and office space above. There will be plantings on the ground floor to encourage interaction between the indoors and the outdoors and create a unified, all-season park for visitors and the community.
BioMed has committed to several community improvements as part of the development of 585 Third St. The company will relocate a gas transfer station from Third Street. It will also include a 300-seat performing arts center at the base of the building, which will be part of more than 15,000 square feet of space open to the public. The theater will be operated separately from the lab and office space leased to Takeda and will offer free programming for the community as well as ticketed arts events.