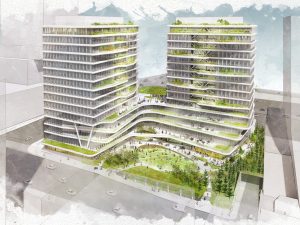 Dallas-based Beam Reach Partners is planning to build a two-tower, 740,000-square-foot office development in downtown Bellevue, Wash., which will be aimed at tech office occupiers.
KANON is expected to break ground in late 2023 with completion slated for mid-2026. Beam Reach Partners ground leased the site from Wallace Properties, a Bellevue-based investment and development company that has owned the property at the southeast corner of 112th Avenue NE and NE Fourth Street for nearly 30 years.
The new development team has filed an application with the City of Bellevue in lieu of Wallace Properties' previous plan for 222 112th Ave. NE., a plan that had been submitted in early 2021. Sam Rabb, co-founder of Beam Reach Partners with John Lewis, said in a prepared statement a long-term ground lease was a good solution to maintain the Wallace family's presence in Bellevue while leveraging their expertise in commercial real estate.
---
READ ALSO: Top 5 California Markets for Office Construction
---
Designed by Gensler to include two 16-story buildings, KANON is set to feature extensive decks and terraces with outdoor green space on every tenant floor, as well as several "superfloors" featuring oversized outdoor space and programming. The project will also have a bike/pedestrian connection to the nearby light rail station, rooftop decks, access to the multi-modal trails along 114th Avenue, abundant parking, bike rooms and lockers.
The property will also feature a nearly 1-acre central park, which will be the largest outdoor green space amenity of any office development in downtown Bellevue. The park's amenities will include Wi-Fi and an amphitheater, as well as outdoor work, social and eating areas.
In addition to the site's proximity to the Downtown Bellevue light rail station, future tenants will also be to take advantage of the numerous cultural, entertainment, shopping and dining offerings in the area. Bellevue Downtown Park, Bellevue Botanical Garden, Bellevue Arts Museum, Seattle Marriott Bellevue, Hilton Bellevue, Surrey Downs Park and Bellevue Club are some of the assets near the planned development.
Brian Di Maggio, senior associate and studio director at Gensler Seattle, said in prepared remarks KANON should create a prominent gateway on Fourth Avenue. He added that, according to Gensler research, abundant outdoor access and green space, that provide places where tenants can socialize or have focused time with a sense of safety and wellbeing, are among the most important amenities sought by employees.
Newmark Executive Managing Director Jesse Ottele and Associate Director Brendan Soelling are leasing KANON on behalf of Beam Reach Partners.
Bellevue office market
Newmark Research stated the Seattle Eastside office submarket has held steady over the second quarter of 2022 with four quarters of positive absorption. The overall vacancy rate was 4.8 percent, down 20 basis points over the quarter and 170 basis points over the past year. Construction activity continues to thrive on the Eastside with 6.5 million square feet of office space underway.
In May, Schnitzer West announced plans for a 19-story, 458,000-square-foot Class A office tower in downtown Bellevue. Groundbreaking is set for this quarter, with completion expected in late 2025. The Arcadian will rise at 120 106th Ave. NE, two blocks from the city's Main Street and its restaurant retail and residential core.
In January, Fana Group sold an office development site at the corner of NE Fourth Street and 106th Avenue NE, with the assistance of Newmark. Patrinely Group and Dune Real Estate Partners acquired the nearly 1-acre parcel for $95 million, planning to build an approximately 481,300-square-foot tower.