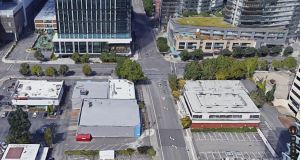 With the assistance of Newmark, Fana Group has sold Four 106, an office development site in Bellevue, Wash., to Patrinely Group and Dune Real Estate Partners in a transaction valued at $95 million. The new owners will pick up where Fana left off, with a vision for an approximately 481,300-square-foot tower on the nearly 1-acre parcel at the corner of N.E. 4th St. and 106th Ave. N.E.
---
READ ALSO: What's Driving the CRE Recovery?
---
Newmark's Kevin Shannon, Ken White and Tim O'Keefe represented Fana in the transaction and appeared to have found an eager audience of potential buyers. Shannon, co-head of U.S. Capital Markets with Newmark, noted in a prepared statement that Bellevue's Eastside submarket continues to experience robust job growth in the office using sector, and "new office product is justified and warranted, which is why capital is attracted to ground-up office development in Bellevue."
Fana, which owns the Key Bank Building neighboring Four 106, had been planning to develop the newly sold site for years. The company secured the appropriate permits to replace an existing 40,300-square-foot office structure with a 21-story tower featuring eight levels of below-grade parking. Now, Patrinely and Dune will follow suit. In addition to the high-rise, the new owners will build a 6,500-square-foot Pavilion Blvd. of retail offerings along what is currently a surface parking lot. Four 106 will also offer an unidentified list of COVID-friendly amenities.
Winning the tech popularity contest
Four 106 will sprout up in the right place at the right time, as while the metropolitan Seattle market may have its pockets of problem areas, overall, the city's office market remains strong, and Bellevue is faring particularly well. As noted in a Kidder Mathews report, at year-end 2021, the Bellevue central business district had the highest quoted average rent of any submarket in metro Seattle at an annual $55.68 per square foot. Newmark remarks in a fourth quarter 2021 report that Amazon's prolific expansion in the Bellevue CBD is driving rents upward. However, Amazon is not the only tech giant that is seeking elbowroom on the Eastside.
"Google, Facebook and Microsoft are also growing, though in the Eastside's suburban submarkets, a fact that is not lost on investors," according to the Newmark report. As noted on Patrinely's website, the new owners of Four 106 will break ground on the office tower in spring 2022.