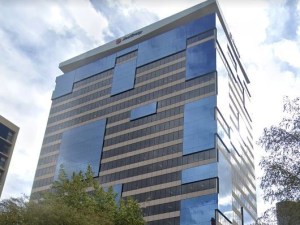 An entity affiliated with Invesco Advisors Inc. has sold the 22-story Class A office tower at 1800 Larimer St. in downtown Denver to an affiliate of Boston-based Beacon Capital Partners for $291 million, the Denver Business Journal reported Friday.
The tower totals 490,500 rentable square feet and is certified LEED Platinum, according to information provided to Commercial Property Executive by CommercialEdge.
Tenants include Xcel Energy, Citywide Banks and McKinsey & Co.
The building's amenities include a 17,000-square-foot outdoor terrace, a 3,000-square-foot fitness center, on-site cafe and bank, a hotel-style conference facility, and a common area boardroom, according to the building's website.
Completed in 2009, the building was sold by the developer, Westfield Development Partners, in February 2011 to the Invesco-affiliated entity.
The DBJ reported that when 1800 Larimer was completed, "it was downtown Denver's first new office high-rise in 25 years."
Beacon Capital Partners is a significant player in the Denver market, having purchased The Circa Building for $60 million in June 2021 and other assets in the past few years.
Mile-high vacancy
Uncertainty about the long-anticipated "return to the office" lingers in metro Denver, especially with respect to downtown properties, according to a fourth-quarter report from Marcus & Millichap. The report notes, "Vacancy in Denver's CBD has steadily increased since the onset of the pandemic, topping 26 percent in June."
Metrowide, employment continues to increase, which might soften the sting of office deliveries hitting a three-year high—including the opening of the 606,000-square-foot Block 162 Tower—even as office availability rises to its highest level in 15 years.
Despite all this, office investment remains active, with more office properties changing hands in the second quarter than in any quarter since the start of the pandemic. Further, M&M reported, "The average sale price inched up 1 percent year over year to $220 per square foot in June, while the mean cap rate stayed the same at 6.7 percent."