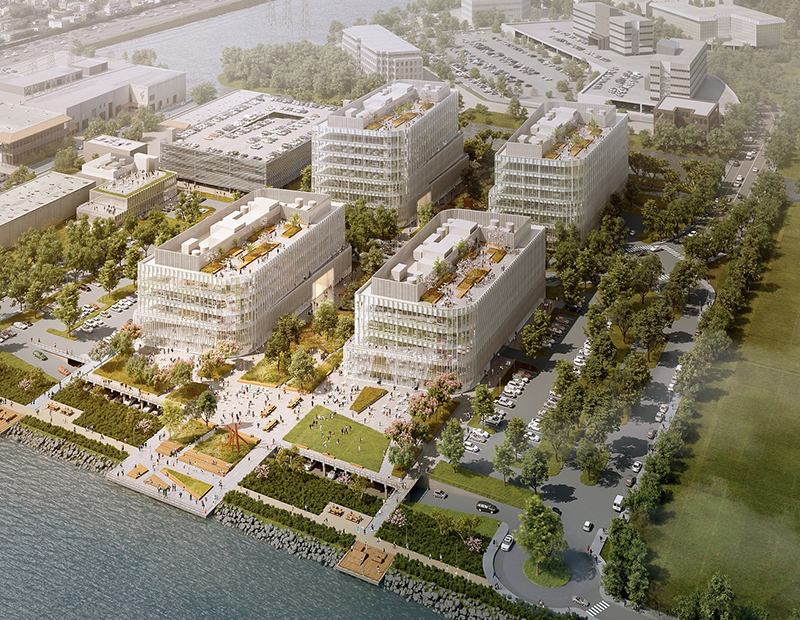 Chinese-backed developer Kylli Inc. has obtained $515 million in construction financing for Burlingame Point, an 803,000-square-foot Bay Area office campus that will be occupied by Facebook's virtual reality firm Oculus.
The Gensler-designed property comprising four Class A buildings is slated for completion in 2020. General contractor Hathaway Dinwiddie is leading the construction.
Kylli, the U.S. arm of Shenzhen-based developer Genzon Investment Group, broke ground on the project in Burlingame, Calif., in 2017. Facebook preleased the property in its entirety in the fourth quarter of 2018, marking one of the largest lease deals ever seen on the San Francisco Peninsula.
The 18-acre site is located on the San Francisco Bay waterfront, roughly 15 miles north of the Facebook headquarters. Positioned between San Francisco and Silicon Valley, the city of Burlingame in San Mateo County is a hub for biotech firms, incubators, research labs and startups.
A team led by Steve Kohn and Mike Moran at Cushman & Wakefield represented Kylli in procuring the new financing from J.P. Morgan and Starwood Property Trust. "The market for construction and transitional financing has been bursting at the seams over the past year with well-located office development for world-class technology, biotechnology and life science companies on the radar of more lenders and investors," commented Kohn in prepared remarks.
Kylii makes progress in California
In addition to Burlingame Point, Kylli has plans in the works for Mission Point, a 10.5 million-square foot mixed-use neighborhood on a site formerly owned by Yahoo in Santa Clara, Calif. The company submitted revised plans earlier this month for the sprawling development that will include 3 million square feet of office space, 400,000 square feet of retail and 6,000 housing units in addition to hotel, education and daycare uses.
Kylli also owns the former Standard Oil Building at 225 Bush St. in San Francisco, after buying the historic tower in a deal that valued the asset at $350 million in 2014.