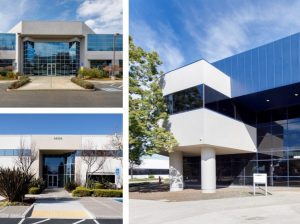 Barings has entered a joint venture with Lincoln Property Co. through the acquisition of a three-property, 228,000-square-foot life science portfolio in Fremont, Calif. Angelo Gordon & Co. sold the GMP-compliant assets, while Newmark brokered the transaction on behalf of both parties.
LPC previously teamed up with Angelo Gordon to purchase the portfolio last year and paid $61.7 million, public records show.
Newmark Executive Vice Chairman & President Steven Golubchik, Vice Chairman Edmund Najera, Senior Managing Director Jonathan Schaefler and Director Darren Hollak worked on the current transaction. Golubchik said, in a prepared statement, that the portfolio featured the last remaining GMP vacancy within the Fremont market.
---
READ ALSO: Life Science Companies Expand Talent Search Beyond Clusters
---
The portfolio comprises three facilities ranging from 51,970 to 107,000 square feet, featuring first floors designed for lab space and mezzanine floors housing offices and conference rooms. Their life-science characteristics include clear heights of over 20 feet, loading doors and dock levelers. COFAN, Violumas and Intellifreight are tenants at two of the assets. The new ownership plans to invest $20 million in property enhancements.
Located at 34325 Ardenwood Blvd., 45401 Research Ave. and 48664 Milmont Drive, the facilities are within 2 miles from Interstate 880, with two of the properties also close to Interstate 680. Downtown Fremont is some 5 miles southeast.
The properties are in a market with a supply-demand imbalance, despite being surrounded by leasing science companies and major universities. Newmark research shows that Fremont is registering a 4.5 percent vacancy rate and a tenant demand of 538,000 square feet.
Life science focus emerges in the Bay Area
Barings has been seeking life science investment opportunities in the Bay Area during the last 12 months. In July, the company paid $170 million for two buildings in Burlingame, Calif., planning a 536,001-square-foot life science project.
Another development is underway in Belmont, Calif., as Four Corners Properties recently received $75 million in financing for the construction of two Class A life science buildings, totaling about 500,000 to 600,000 square feet. The project represents the redevelopment of the 7-acre Shoreway Innovation Center.