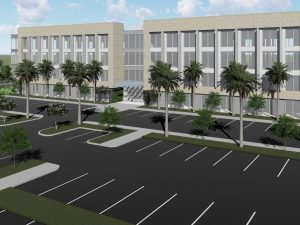 Bansi Properties, the sister company of Chetu, a software development firm, has announced plans to expand its business center in Sunrise, Fla., with a 140,000-square-foot office building. The project site is located within the Sawgrass International Corporate Center, a 612-acre office and industrial campus, some 32 miles north of downtown Miami. The property is slated for completion in 2023.
Designed by architecture firm FSMY, the upcoming four-floor project will be developed with Energy Star and LEED certification standards in mind. The location has been planned for multi-tenant use, with the possibility of single-tenant retrofitting.
The property will be situated on a 22-acre site that includes a recently acquired 178,060-square-foot office building at 1500 Concord Terrace. Chetu purchased the property in June this year from Mednax for $25 million, according to data from CommercialEdge. The asset now serves as the company's global headquarters. Newmark is in charge of leasing the remaining office suites at the existing location and will handle tenancy at the upcoming building.
Located just off US Route 869, the growing Bansi campus is a short distance from Sawgrass Mall, the largest shopping center in the area. The property is also less than 3 miles of the interchange between interstates 595 and 75.
Demand pushes construction activity
Once the new development is completed, Bansi's portfolio will exceed 400,000 square feet of office and residential space in locations around Miami. The portfolio includes a 63,600-square-foot building in Plantation, Fla., serving as IRS' new Broward County office.
While most U.S. office markets still struggle to return to pre-pandemic levels, Miami continues to grow its inventory. As of November, the metro had approximately 3.5 million square feet of office space under construction, a recent CommercialEdge report shows. At the same time, Miami has expanded its office-using workforce by nearly 10 percent over the past 12 months, second only to Austin among larger U.S. metros.
The surge in development activity is also supported by improving absorption rates. Vacancy stood at 12.5 percent in November, a remarkable 120-basis-point drop in vacancy year-over-year. Over the same period, Miami office rents increased by 5.8 percent, heavily outperforming the 1.2 percent U.S. average.