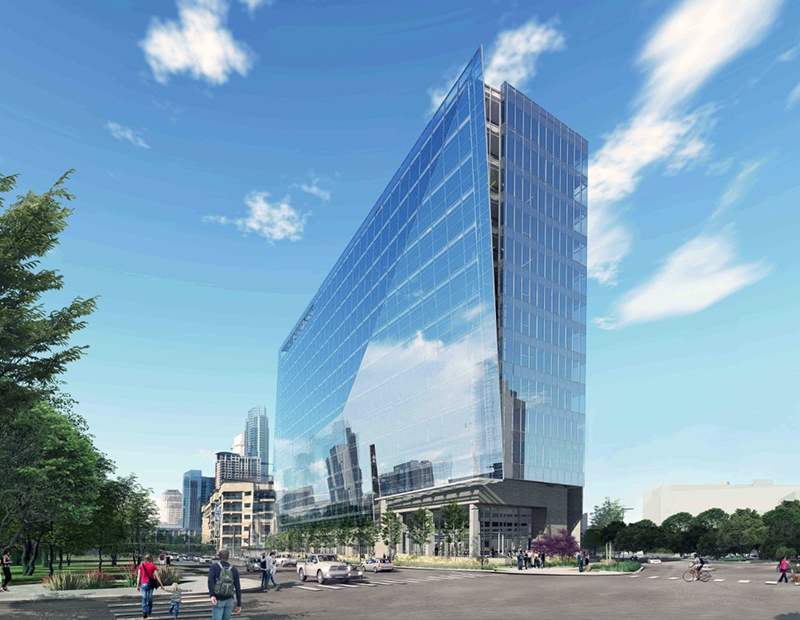 Stream Realty Partners has received a $122.9 million construction loan for the development of RiverSouth, a 15-story, 360,860-square-foot office development in Austin, Texas. The announcement came from HFF, which arranged the funding.
The lender was New York Life Real Estate Investors, on behalf of New York Life Insurance Co.
RiverSouth will comprise 347,778 square feet of office space and 13,082 square feet of ground-floor retail. The property will feature average 37,000-square-foot floorplates, giving high-density users increased flexibility, as well as five levels of underground parking.
Amenities include a 15th-floor sky lounge and full-service bar, a seventh-floor "amenity deck" with an outdoor green space and jewelbox fitness studio, and 360-degree views from all floors.
There will also be substantial green features: a bike valet and bike storage, a Bike Score of 96 and a Walk Score of 81, and a graywater system. The building is targeting LEED Gold certification.
The triangular 1.4-acre site, at 401 S. First St., is at the confluence of South First Street, West Riverside and Barton Springs Road, just across Lady Bird Lake from downtown Austin, and across First Street from Butler Park and the Long Center for the Performing Arts.
Stream broke ground in mid-March with the demolition of a Hooters restaurant that had been on the site. RiverSouth is due for completion in 2021. The Beck Group is the project's architect and contractor.
The HFF debt placement team representing Stream included Senior Managing Director Colby Mueck, Managing Director Robert Wooten, Senior Director Chris McColpin and Analyst Jayme Nelson.
Stream Realty did not reply to Commercial Property Executive's request for additional information.
Strengthening what's already healthy
RiverSouth reportedly is the first project to begin construction under Austin's South Central Waterfront Initiative, which is intended to guide redevelopment of the 118-acre neighborhood over the next 20 years.
The Austin office sector benefits from a strong local economy, low unemployment (3.0 percent) and steady job creation, especially in the tech industries, according to a first-quarter report from Cushman & Wakefield.
The metro area's average office vacancy crept down to 10.5 percent from the previous quarter, but the situation in the CBD is much tighter. There, average vacancy for Class A properties is a spare 5.9 percent, as average asking Class A rent in the CBD hit $59.21.
Despite a record 5.6 million square feet of office space underway, Cushman & Wakefield anticipates that large corporate users taking large blocks of space, often through preleasing, will keep vacancy levels steady and rents rising.