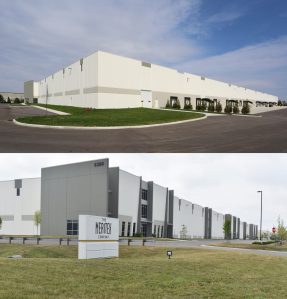 A joint venture between Ares Management real estate funds and Pinchal & Co. has secured a $51.3 million senior loan from PCCP LLC for the recapitalization and lease-up of two Class A industrial assets totaling 833,277 square feet in the Southeast submarket of Columbus, Ohio.
The buildings are located in the Rickenbacker Logistics Park, a master-planned industrial campus that is adjacent to several major air and rail transportation hubs, including the Rickenbacker International Airport and Rickenbacker Intermodal Terminal.
The assets are less than 3.5 miles from the airport, which is a major global logistics hub and one of the world's largest dedicated cargo airports. The Rickenbacker Logistics Park is home to leading cargo operators including UPS, FedEx, Amazon, Cargolux, Cathay Pacific, Emirates SkyCargo and Korean Air Cargo.
---
READ ALSO: Industrial Sector Reaches Supply Momentum
---
PCCP, a national real estate finance and investment management firm focused on commercial real estate debt and equity investments, has been active in the Columbus market. Equity investments include teaming with The Pizzuti Cos. in 2017 and 2019 to develop industrial properties in the Southeast submarket near the airport.
In 2017, that joint venture announced plans to build Rickenbacker West I, an 802,390-square-foot speculative development within the Creekside Industrial Center in the Rickenbacker Global Logistics Park. Two years later, the partners joined forces to develop Rickenbacker West II & III, two properties totaling 539,094 square feet that were located adjacent to Creekside Industrial Center.
Growing industrial submarket
Michael Thomas, associate with PCCP, noted in prepared remarks that the properties in the newly originated loan for Ares Management and Pinchal provide users with interstate, rail and air access to the rest of the U.S. With major interstates including I-70, I-71 and I-270 nearby, the Columbus area has greater access to U.S. markets within a 10-hour drive than any other major metropolitan area in the country.
According to PCCP, the Southeast Columbus industrial submarket has 70 million square feet of inventory, with growth of 10 million square feet in the last five years. The area has an all-time low vacancy rate of approximately 1.3 percent, tightening 3.8 percent since 2020.
Major commercial real estate investors such as KKR have located within Rickenbacker Logistics Park. In November 2021, a KKR fund, KKR Real Estate Select Trust Inc., acquired two single-tenant warehouses totaling approximately 1.1 million square feet in the industrial park. KREST purchased the fully leased assets from a joint venture between CT Realty and Walton Street Capital for $132 million.