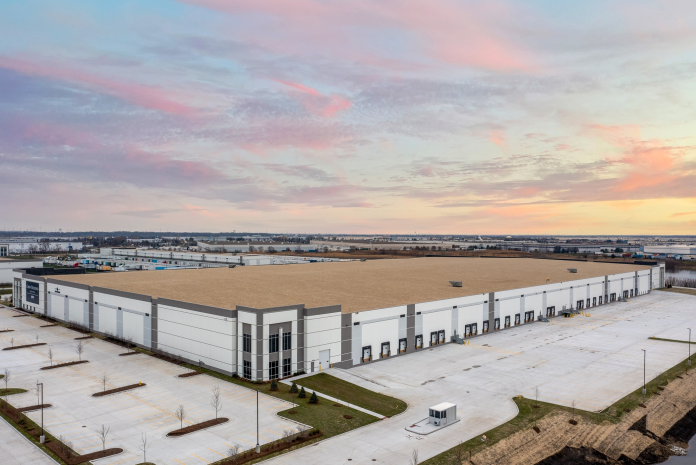 A KKR fund has acquired industrial properties in the Chicago and Charleston, S.C., markets totaling more than 1.9 million square feet for $264 million, boosting its logistics holdings to approximately 6 million square feet throughout the U.S. and South Korea.
KKK Real Estate Select Trust Inc. recently completed the purchases of a newly constructed 1 million-square-foot, cross-dock industrial warehouse in Summerville, S.C., and a three-building industrial park in Bolingbrook, Ill., developed in 2020 with about 923,000 square feet. The purchases were made in two separate transactions last month.
KREST acquired Veterans Point in Bolingbrook from the developer, Crow Holdings Industrial, for $155 million. The property is fully leased on a long-term basis to four tenants. It is comprised of a cross-dock warehouse, a rear-load warehouse and truck terminal. CBRE represented the seller in the transaction.
The industrial park is situated approximately 30 miles from Chicago's Central Business District and 25 miles from Midway International Airport. It is also in close proximity to O'Hare International Airport, a top 10 cargo airport. KREST noted on its website that the Chicago region is one of the country's largest logistics markets and is a hub for food and beverage and consumer product distribution.
The fund also paid $109 million for Charleston Twin Star, a Class A warehouse located within the Charleston Trade Center in Summerville that was delivered in December. KREST purchased the property from the developer, a joint venture between The Keith Corp. and Singerman Real Estate. The property is fully leased on a long-term basis to a home furnishings manufacturer. JLL represented the seller.
The site has direct interstate access to the Port of Charleston, the deepest port on the East Coast and one of the busiest. The Charleston market has shown robust, consistent growth over the past several decades, driven by private and public sector employment, according to KREST. It has strong industrial supply and demand fundamentals with high occupancy rates and continued net absorption.
Growing Portfolio
KKR announced the launch of KREST in May and seeded the fund with $150 million from its corporate balance sheet. The fund's targets were described as thematically driven, income-generating commercial real estate, prime single-tenant real estate and private real estate debt and preferred equity interests in the U.S., Europe and Asia.
Ben Brudney, a director in KKR's real estate group who oversees the firm's U.S. industrial investments, said in a prepared statement the most recent acquisitions were made in markets where the global investment firm has significant experience. He said KKR focuses on state-of-the-art distribution centers that are in close proximity to major population centers and key transportation hubs because they will have significant staying power and are a great match for KREST's long-term capital.
Roger Morales, KKR partner & head of real estate acquisitions in the Americas, said KKR has acquired approximately 50 million square feet of industrial property across the U.S. over the past few years.
Prior to the purchases in Illinois and South Carolina, KREST made two separate acquisitions totaling 1.4 million square feet, including its first international investment, for a combined $267 million. The fund acquired the Mercedes-Benz Parts Distribution Center, a 353,000-square-foot build-to-suit property in Anseong, South Korea, for $135 million in November. LB Asset Management participated in the investment and will continue to operate the property, located approximately 70 minutes from Seoul.
A month earlier, KREST acquired two single-tenant warehouses totaling approximately 1.1 million square feet in the Rickenbacker Logistics Park in Columbus, Ohio, from a joint venture between CT Realty and Walton Street Capital for $132 million. The properties are fully leased to two high-quality credit tenants. CBRE was the seller's broker for the transaction.
Also in October, KKR purchased a Class A industrial distribution building totaling 226,000 square feet within the Papago industrial park in a Phoenix submarket through its Real Estate Partners Americas III fund.