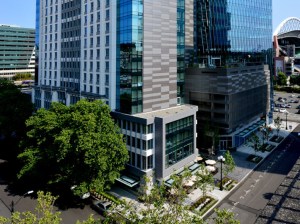 American Life Inc. has refinanced the three-year-old office and hotel property at 255 S. King St. in Seattle to the tune of $122.7 million. Relying on Cushman & Wakefield as adviser, ALI secured a loan for the approximately 717,700-square-foot mixed-use asset through PCCP.
---
READ ALSO: Hines Breaks Ground on Toronto Creative Office Project
---
ALI, developer of 255 S. King, saw that the timing was just right to refinance. "The financing capital markets have rebounded from early-COVID-19 times in a serious way. Lender appetite for well-located, quality product is near all-time highs," a member of the Cushman & Wakefield Equity, Debt & Structured Finance team told Commercial Property Executive.
Dave Karson, Chris Moyer, Stephen Michels, Zachary Kraft and Lauren Greenberg comprise the Cushman & Wakefield team that represented ALI in the transaction with PCCP.
Located in the city's bustling Pioneer Square submarket, 255 S. King consists of two interconnected towers, the tallest of which is the 23-story Embassy Suites by Hilton Seattle Downtown Pioneer Square, a 282-key hotel featuring 10,000 square feet of meeting and event space and approximately 17,300 square feet of retail space.
The hotel braved the pandemic and kept its doors open with limited staff. Completing the LEED Silver-certified property is the 11-story, roughly 209,500-square-foot office building, which sits above a seven-story retail and parking podium. The office building, also known as Avalara Hawk Tower, is leased in its entirety, with software firm Avalara Inc. serving as anchor tenant in an approximately 133,500-square-foot space under a lease that expires in 2028.
Turning the corner
A premier hotel on its own may not have been enough to bring lenders running today—lodging-backed loans continue to record the greatest stress among the various real estate sectors—but a premier hotel coupled with a fully stabilized office property in a premier metro proved to be the right balance to attract lenders' attention.
"Great response from the lending community, due in part to the desirable location just south of downtown Seattle near major transit hubs, and the fully leased office tower, which had a strong weighted average lease term," according to the Cushman & Wakefield team. "There haven't been many hotel financings within the industry in recent time due to the impact of COVID-19, and so this notable transaction was a good sign of the rebound in this segment looking forward."