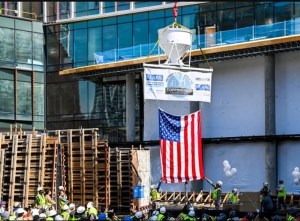 Amazon has completed the highest floors of the twin 22-story office towers at Metropolitan Park, which comprise the first phase of the company's second headquarters—or HQ2—in Arlington, Va.
The buildings total more than 2.1 million square feet, including more than 50,000 square feet of retail space for local small businesses, and will open for employees in 2023.
The project's amenities include more than half a mile of new protected bike lanes, 2.5 acres of public open space and a daycare center for families in the community. Amazon is touting the benefits for the surrounding community of the amenities such as a 700-person event space.
---
READ ALSO: Top 10 States for LEED-Certified Office Properties in 2021
---
Met Park is targeting LEED Platinum certification and will be powered by 100 percent renewable energy provided by a new 45-megawatt solar farm being built in Pittsylvania County, Va.
Other green measures include using captured and treated rainwater and gray water for flush fixtures and cooling towers.
JBG Smith Properties is Amazon's development partner, and Clark Construction, ZGF Architects and Seneca Group were responsible for the towers' design and construction.
Phases plus phases
There's much more to HQ2 than this first phase, of course.
In September 2020, Amazon acquired a 299-key Residence Inn by Marriott, with the goal of demolishing it and thus enabling a more cohesive plan for the whole 11.6-acre PenPlace site.
In December of that year, JBG Smith finished redeveloping 1770 Crystal Drive, in Arlington's National Landing. That 273,000-square-foot office building, originally constructed in 1980, was part of Amazon's planned expansion into Northern Virginia even before the plans for HQ2 jelled.
And in February 2021, Amazon submitted its proposal for the second phase of HQ2, encompassing 2.8 million square feet of office space (3.3 million square feet in total) spread across three 22-story towers and The Helix, a double-spiral building with alternative workspaces.
Phase two is also aiming at LEED Platinum certification.