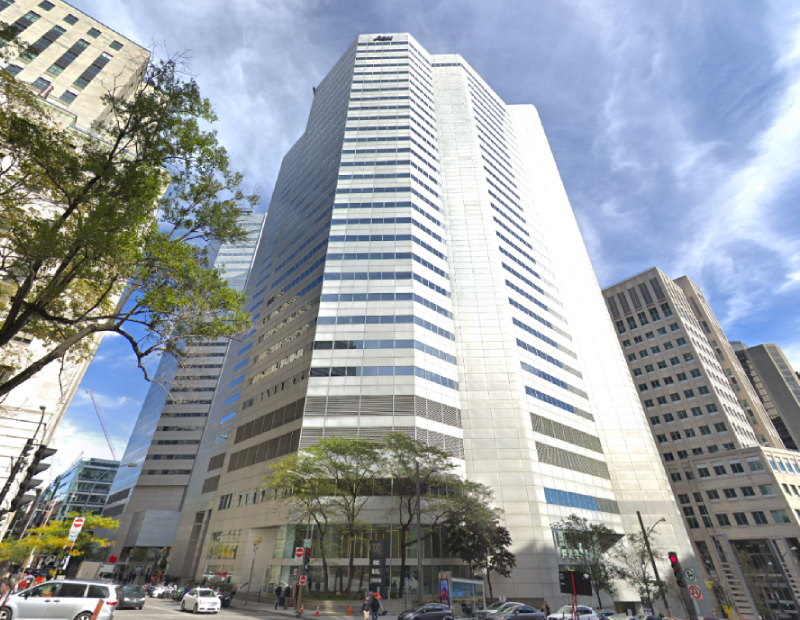 Allied Properties Real Estate Investment Trust has closed its acquisitions of 700 de la Gauchetière St. W. and the RCA Building, both in Montreal. The tower at 700 de la Gauchetière (DLG) is in the southern portion of the city's downtown core, close to Allied's 425 Viger Ave. W.
The roughly 936,000-square-foot 700 DLG was 96 percent leased at the time of sale. The property features large floorplates, substantial ceiling heights and ample column spacing, as well as some 700 underground parking spaces. The possibility exists to create additional workspace and urban data center space by transforming portions of the existing structure above and below grade.
The RCA Building is located at 1001 Lenoir St. in Saint-Henri, an emerging mixed-use neighborhood west of Griffintown and south of Westmount. The area, near McGill University Health Centre, is well served by public transportation and has a sizable stock of older structures that can be adaptively re-used as urban workspaces. The property totals 220,535 square feet of land, 343,579 square feet of GLA over five stories and surface parking for 215 cars. About 107,000 square feet of the land can be developed in time. The building is 82 percent leased to a roster of knowledge-based organizations, many of which continue to expand within the building.
Allied did not reply to Commercial Property Executive's requests for additional information. CPE was, however, able to identify Dream REIT, of Toronto, as the previous owner of 700 DLG.
Getting better, but slowly
Allied has owned, managed and redeveloped urban workspace in Montreal since 2005. It now owns 20 urban properties that total 5.6 million rentable square feet, including 5445 and 5455 de Gaspé Ave. (969,558 square feet), Cité Multimédia (958,849 square feet) and Nordelec (877,376 square feet). Montreal's emergence as a top urban environment for knowledge-based organizations is driven in large part by the city's institutions of higher education, according to Allied.
Office vacancy has been declining across greater Montreal, with improvements in most submarkets, according to a recent report from Avison Young. The absorption of about 2.4 million square feet of space in the first quarter brought the metro's overall vacancy down to 13.7 percent. Despite this, the report continues, investment activity has been surprisingly low, with 700 DLG having been on the market since fall 2018. Typical cap rates for Class A office buildings in downtown Montreal reportedly average 5.0 percent.
One notable exception to the slow investment market in Montreal was Bentall Kennedy's purchase in May of the trophy office building at 1250 René-Lévesque for a reported $450 million.