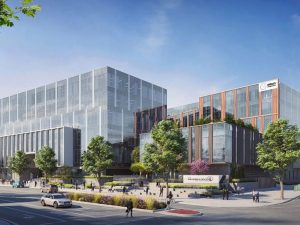 Biotechnology company Eikon Therapeutics has signed a long-term lease for 285,000 square feet as the anchor tenant of a new life science campus being developed by Alexandria Real Estate Equities Inc. in Millbrae, Calif. The space can accommodate up to 750 employees.
The four-building, 637,000-square-foot campus is under construction and set for delivery in late 2024. It will be known as the Alexandria Center for Life Science – Millbrae campus and will feature laboratory and office space as well as a 16,000-square-foot amenity center.
Cushman & Wakefield represented Eikon in the leasing transaction.
---
READ ALSO: Adaptive Reuse or New Construction? Considerations for Life Sciences
---
Alexandria acquired two adjoining parcels on Adrian Road in Millbrae for $21 million in 2021 and combined them with several other properties to create one 4.7-acre development site, according to the San Mateo Daily Journal.
The project was approved by the City's Planning Commission in December. Located in an employment center/light industrial zone, the site falls within the Millbrae Station Area Specific Plan (MSASP) and is designated for Transit Oriented Development (TOD). The campus is taking shape between Highway 101 and El Camino Road across from the Millbrae Transit Center, serviced by both BART and Caltrain.
Upon completion, the property will comprise three six-story buildings, a one-story building and a 10-level parking garage. There will also be an outdoor plaza at Rollins Road and Millbrae Avenue, near the smaller amenity building that will include a conference center, café open to the public and fitness center for employees.
Targeting LEED Gold certification, the environmentally sustainable facility will integrate scientific and non-scientific spaces to foster cross-disciplinary collaboration. On-site solar panels will supplement the energy needs, according to the newspaper.
Alexandria, one of the market leaders in providing Class A office and laboratory space to the life science and technology industry in San Francisco, has 9.2 million square feet of space in the San Francisco Bay Area, including the Alexandria Center for Science and Technology in Mission Bay.