By Gail Kalinoski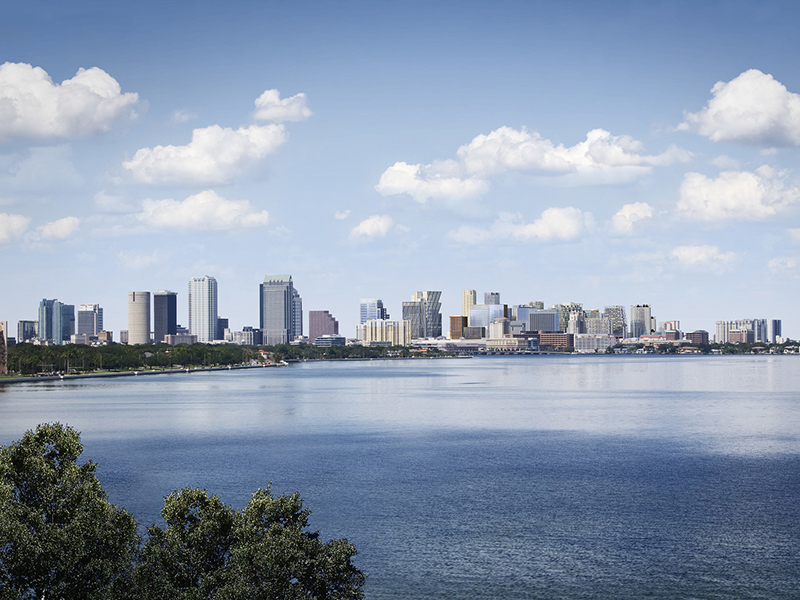 After several years of planning and accumulating properties in downtown Tampa for a transformative mixed-use waterfront district, Strategic Property Partners LLC said the first phase of the $3 billion, 9 million-square-foot Water Street Tampa project will begin this fall.
More than 4 million square feet of office, residential, hospitality, retail and cultural space across 10 blocks is slated for completion by 2020. Subsequent phases are expected to be completed by 2027. When it is built out, Water Street Tampa will have 2.6 million square feet of office space—the first new office towers to be erected in downtown Tampa in nearly 25 years—along with 1 million square feet of retail, cultural, educational and entertainment space; 3,500 new rental and for-sale residences; and two hotels with more than 650 guestrooms, including the city's first 5-star hotel.
SPP donated an acre of land to the University of South Florida, which will relocate the Morsani College of Medicine and Heart Institute to downtown Tampa from its suburban location to a new 380,000-square-foot facility by the fall of 2019.
A live-work-play community
The development team, a joint venture between Cascade Investment LLC, controlled by Microsoft founder Bill Gates, and Jeff Vinik, who owns the Tampa Bay Lightning, estimate that 23,000 people will live, work and visit Water Street Tampa each day.
 "Water Street Tampa is a story of opportunity and well-being, with culture, community and character on each block. At every level, we aspire to create a well-crafted place that attracts people to come to discover, create and live their own life stories," James Nozar, SPP CEO, said in a prepared statement. "By bringing together many of the world's leading talent in architecture, planning, placemaking and community design, we aim to connect people both to each other and to a vibrant and stimulating environment in downtown Tampa."
John Burpee, CEO of NAI Tampa Bay, said his firm helped assemble the majority of the parcels for the developers and "saw the larger picture right from the start."
"Once the project is completed, we feel it will relocate the core business district from its present location. Given that the majority of office and housing is 30-plus years old, any new energy-efficient construction is sure to be well-received," Burpee told Commercial Property Executive.
The ripple effect
Calling it the "worst kept secret in the Bay Area for a long time," Burpee said news that the massive waterfront project was in the planning stages likely spurred other commercial real estate activity in downtown Tampa.
"In my opinion, this is why you are seeing over 1,000 new Class A units being slated for the downtown core market," Burpee said. "The Old Times building is a perfect example of how developers are looking to capitalize on the influx of employment this project will bring."
Burpee was referring to the former Tampa Tribune newspaper building that was closed after the newspaper was bought in 2016 by the Tampa Bay Times. Related Group is turning the waterfront site into an eight-story, 400-unit apartment community.
"We also feel that you will see additional housing projects added to the fray as the project (Water Street Tampa) is built out. We have several developers we are currently working with asking us about sites in the core and outlying areas," Burpee noted.
SPP said it is working with 10 award-winning architectural firms on the design of 18 district buildings and 12.9 acres of new and enhanced public space. Construction of over $200 million in new infrastructure began in the summer of 2016. The goal is to transform the district and connect current community anchors like the Tampa Convention Center, Amalie Arena, Tampa Bay History Center and Florida Aquarium with a network of new parks and public space.
Water Street Tampa aims to set a new standard for wellness and sustainability. Part of that will come from a new central cooling facility that will begin construction this fall. The individual buildings will benefit from efficient and reliable district-wide cooling, which will free up the rooftops for landscaped terraces with views of Downtown Tampa and Hillsborough Bay.
SPP said it is pursuing both WELL and LEED building certification on individual buildings and anticipates that Water Street Tampa will become the world's first WELL-certified community under the WELL Community Standard currently being developed by the International Well Building Instititute.