Cautiously Confident
By Mike Ratliff
Mortgage banking professionals continue to do what they do best: find smart ways to help clients navigate the complicated business of borrowing. And their transactions should continue to ramp up over the next year, according to respondents to the 2015 CPE-MHN Top Mortgage Banking/Brokerage Firms survey.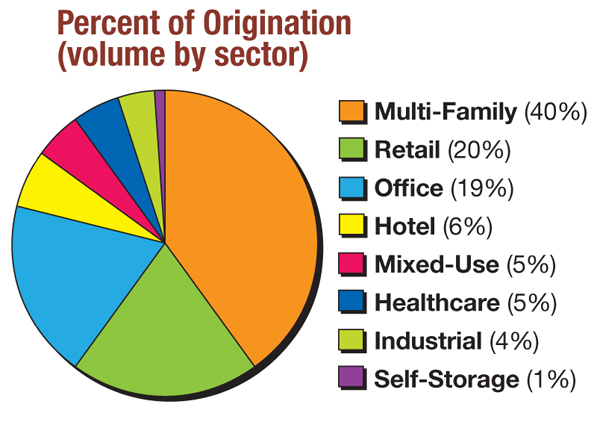 All but two firms expect their business volume to increase this year compared to last, with more than one third of companies reporting that they expect to see an increase in excess of 20 percent. A predicted rise in interest rates could be one reason for the optimism, as owners are motivated to secure cheap money while it's available. More than one third of these respondents see rates moving up over the next six months, while the rest predict no change.
Another interesting trend strengthened by this year's data is that other sectors have continued to gain on multi-family. Last year we saw that category taking 57 percent of the origination pie; this year's figure is 40 percent. Retail saw the biggest uptick in business compared to last year's survey, perhaps due to consolidation in the net lease space. Office also saw a marked uptick, likely due to increased construction in gateway markets.
We expect that the volume of refinancing activity will ramp up in 2015 and continue to pick up in both 2016 and 2017 as CMBS loan maturities come due. Owners across all sectors should be in a better position to refinance as fundamentals improve, with higher rents and lower vacancies in all product types. While Congress couldn't get a TRIA extension done in 2014, quick movement on the bill in 2015 and the passage of a $1.1 trillion federal budget suggest the possibility that lawmakers can move away from brinkmanship and partisan politics to provide increased clarity for businesses—always welcome news for the industry.
Methodology
This year's group of companies provided a view of how their transaction volumes have changed over time and a breakout of what loans were processed. Our ranking took into account the coverage offered, total transaction volume, growth in transaction volume, loan positioning and expected prospects for the next calendar year.