By Scott Baltic, Contributing Editor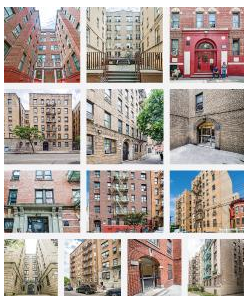 Continental Properties and affiliates of J.P. Morgan Asset Management have sold, for $90 million, a 13-building multifamily portfolio in the Bronx, Ariel Property Advisors, which represented the sellers, announced late last week. The buyer was an unidentified private investor.
The sale of the so-called "Continental Portfolio" reportedly is the borough's largest multi-family deal so far this year.
Of the 13 buildings, four are elevatored and nine are walk-up properties. They total 612 units and a gross area of about 553,300 square feet, and the $90 million sale price translates to more than $160 per square foot, according to Ariel.
"Given our success in adding value to the portfolio and monetizing our investment, we remain excited about the long-term prospects for Bronx multifamily assets and look forward to seeking out new opportunities there," Howard S. Rappaport, principal at Continental Properties, said in a prepared statement.
The portfolio was acquired in 2007 as part of a programmatic joint venture with JP Morgan Asset Management, according to Continental.
The Ariel Property Advisors team consisted of executive VP Victor Sozio, president Shimon Shkury, Michael A. Tortorici, Scot Hirschfield, Jason M. Gold and Marko Agbaba. Ariel Properties declined to comment further on the transaction.
"Bronx multifamily properties have seen incredible appreciation throughout 2015," Shkury said in the statement. "Third-quarter statistics show the average price per square foot and price per unit up nearly 27%, year-over-year."
"Similar to other large-scale multifamily and development transactions in 2015, The Continental Portfolio attracted a broad spectrum of investors that are increasingly focused on Bronx real estate opportunities," added Sozio.
The 13 buildings are in four Bronx neighborhoods:
*  Five are in Mount Eden/Mount Hope, at 1685 Morris Ave., 1704 Morris Ave., 1711 Morris Ave., 1715-1717 Walton Ave. and 1727-1729 Walton Ave.
*  Three walk-up buildings are at 1165 Gerard Ave., 1170 Gerard Ave. and 1236 Grand Concourse in the Lower Concourse section of the South Bronx.
*  Four buildings are in University Heights/Fordham, at 2226 Loring Place, 2322 Loring Place, 2333 Loring Place and 2442 Morris Ave.
*  And 4138 Barnes Avenue is in the Wakefield section of the Bronx.
An August report from Ariel portrays a robust multifamily market in New York City, with 47 transactions involving 82 buildings and totaling $853.5 million in gross consideration. These figures represent a 22 percent increase in dollar volume over August 2014, despite decreases in both building volume and transaction volume.
Specifically in the Bronx, there were mostly single-asset transactions in August, as 10 buildings traded across nine transactions totaling $107.74 million in gross consideration.
Image courtesy of Ariel Property Advisors.