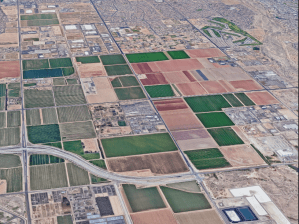 A segment of LogistiCenter at Copperwing, Dermody Properties' 961-acre master-planned industrial development in El Mirage, Ariz., may soon become a Foreign-Trade Zone, now that the city of El Mirage has given its backing for the suburban Phoenix site's federal designation, according to the Phoenix Business Journal.
On July 12, the El Mirage City Council passed a resolution authorizing the city manager, Crystal Dyches, to execute a letter of support for the FTZ Magnet Site proposed for Copperwing and approximately 690 acres of the total project, which will ultimately encompass 10 million square feet of premier industrial space. As noted in the resolution, officials believe the FTZ program and Magnet Site designation are consistent with the city's goals as identified in the El Mirage General Plan.
---
READ ALSO: A Look at Phoenix's Large-Scale Industrial Projects
---
The city of El Mirage has been a member of Greater Maricopa Foreign Trade Zone Inc. in western and northern Maricopa County since 2013.
"The city of El Mirage supports the continued utilization of this FTZ and believes that use of Zone status serves as a means to encourage new businesses to locate within the city," the El Mirage City Council wrote in its resolution. According to GMFTZ Inc., Magnet Sites, or industrial sites, with FTZ status provide tenants with an additional level of opportunities for their facilities and eliminate the need to obtain support letters from each local taxing entity along with the filing of the formal FTZ application.
Copperwing is set to take shape on land Dermody acquired from the John F. Long Family Trust in December 2021. The project will materialize in phases over a period of several years and, at full build-out, will feature multiple speculative logistics facilities, build-to-suit projects and third-party user land sales. The first phase of Copperwing will consist of 1.7 million square feet of space in buildings combinable to accommodate a single space as large as roughly 1.3 million square feet and divisible to as small as 100,000 square feet.
Big deal
For industrial real estate users, FTZ sites are of substantial appeal. The federal program's advantages are numerous for a tenant. For starters, real and personal property within an approved FTZ site is reclassified and assessed at a reduced value for taxation purposes. Additionally, tenants benefit from reduced or eradicated duty, tariff and U.S. customs reporting costs. Also, as Dermody points out in its marketing material, activated FTZ operators enjoy the highest level of security, allowing for room to negotiate lower insurance rates.
Dermody plans to break ground on the initial phase of Copperwing in the fourth quarter of the year. CBRE is spearheading marketing for the project, and the first speculative facilities will be available for occupancy in the third or fourth quarter of 2023.
The Foreign-Trade Zones Board in Washington, D.C. has the final say on Copperwing's FTZ status.