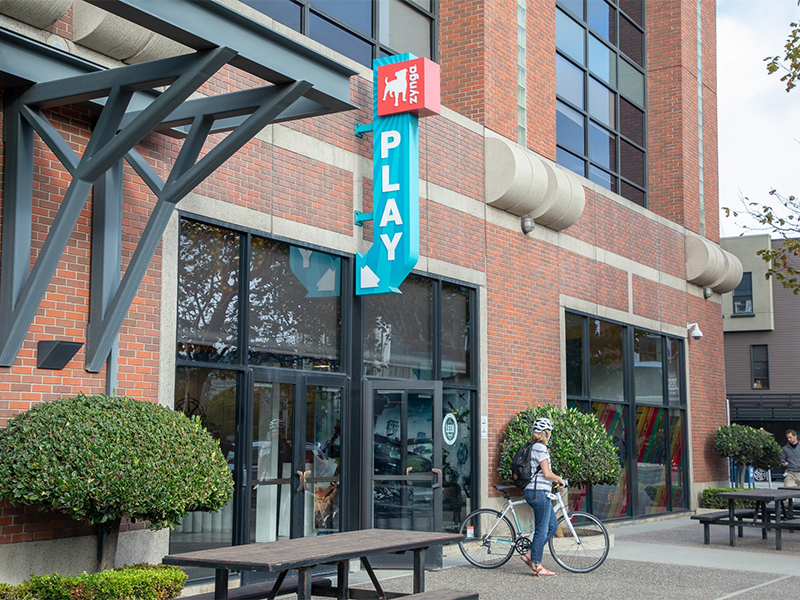 Online gaming company Zynga Inc. is selling its 670,000-square-foot headquarters at 650 Townsend St. in San Francisco to an affiliate of Beacon Capital Partners for approximately $600 million and will leaseback about 185,000 square feet under a 12-year lease.
The deal, expected to close in late July, calls for Zynga to pay rent of approximately $10 million for the first year, with annual increases of up to 3.25 percent after July 2020, according to a document filed with the Securities and Exchange Commission. The lease may also be extended up to a maximum of 22 years additional years.
Frank Gibeau, Zynga CEO, said the global interactive entertainment company planned to invest the proceeds of the sale back into the business. Known for its mobile games like Words with Friends and FarmVille, Zynga was founded in 2007 and moved into the Class A office building in the city's South of Market, or SoMa, section in 2010. Zynga acquired the building from TMG Partners for $228 million in April 2012, according to Yardi Matrix. TMG Partners had owned the property since August 2006, when it bought it from The Buzz Oakes Group of Cos. for $117 million, Yardi Matrix data shows.
Beacon Capital Partners, a private real estate investment firm based in Boston, currently owns at least three other office properties in San Francisco—44 Montgomery, 655 Montgomery and 201 California. Among the properties it previously owned in the city is 888 Brannan St., a 445,000-square-foot Class A office building that serves as Airbnb's corporate headquarters. Beacon Capital Partners sold the property to a joint venture of Norges Bank Investment Management and TIAA-CREF for $307 million in September 2015.
Beacon Capital Partners deals
Earlier this month, Beacon Capital Partners sold Presidential Tower, a 349,303-square-foot, Class A office building in Arlington, Va., to Starwood Capital Group. The new owner received $98.5 million in financing from Société Générale and MetLife to acquire the property, and the full price of the building was reported to be around $100 million.
In June 2018, Beacon Capital Partners acquired 2445 M. St. NW, a 290,000-square-foot office property in Washington, D.C., from Washington Real Estate Investment Trust for $101.6 million.
More recently, in December, Beacon Capital Partners teamed up with Allianz and the Pension Reserves Investment Management Board to buy 53 State St., a 1.2 million-square-foot office property in downtown Boston from UBS Asset Management for $845 million.