By Barbra Murray, Contributing Editor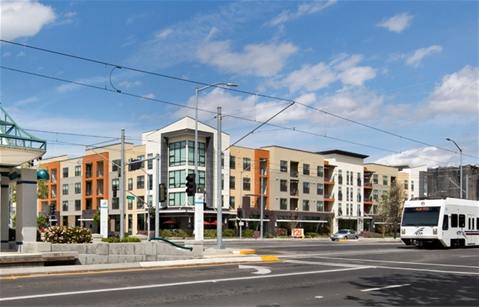 Zurich Alternative Asset Management L.L.C. has grabbed a premier apartment community in San Jose, Calif., with a premier price tag.  ZAAM, the investment arm of Switzerland's Zurich Insurance Group, acquired the 174-residence property at 121 Tasman from a joint venture between LCOR Ventures L.L.C. and Cigna Realty Investors for $87 million, or a whopping $500,000 per unit.
Sited across the street from a light rail station within the Golden Triangle area of the sizzling Silicon Valley apartment market, 121 Tasman welcomed its first residents in July 2013, and by April 2014 the four-story building had already reached 95 percent occupancy. It's brand new and it's in the right place at the right time; properties like this one are hard to come by for investors.
"Core acquisition opportunities of this type in the northern San Jose market are limited because the majority of the residential developments in the area are controlled by institutions with long-term hold periods," Stanford Jones, an executive vice president with real estate investment services provider Institutional Property Advisors, noted in a press release. IPA represented the seller in the transaction.
Investors' attraction to the San Jose market, if not their willingness to pay half-a-million per unit, is easily explained.
"The mobile technology boom is creating thousands of jobs across the South Bay and generating demand for high-end apartments from newly employed residents," according to a report by Marcus & Millichap Real Estate Investment Services, parent company of IPA. "The resultant increase in jobs and wages is fueling demand for housing across the market."
In the first quarter, apartment property transactions plummeted 22 percent year over year in San Jose, per the report, given that "the queue of investors interested in San Jose apartment properties far outnumber listings."