By Alex Girda, Associate Editor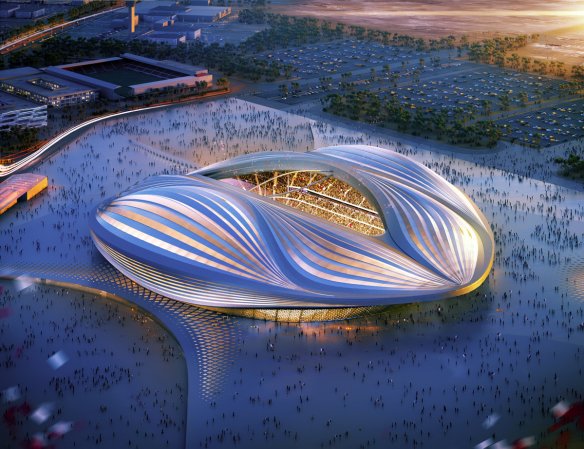 As the play-offs for the 2014 FIFA World Cup in Brazil took place two weeks ago, one of the main attention grabbers in the soccer world was something linked to the 2022 edition of the competition.
The World Cup will be held in Qatar, making it the first host nation from the Middle East. The event organizers, the Qatar 2022 Supreme Committee, recently unveiled the design provided by Zaha Hadid for the stadium that will be constructed in Al Wakrah, one of the Host Cities of the 2022 FIFA World Cup.
Al Wakrah Stadium, a facility that will be developed based on the AECOM and Zaha Hadid Architects-inspired design, will be part of a major development operation that will be carried out in the city located in the southern part of Qatar. Approximately 6 million square feet constituting a precinct area will be developed, capturing the cultural heritage of Al Wakrah and the neighboring Al Wukair. The municipality is located just 10 miles south of Doha, the capital of Qatar, and has served as a crucial waypoint for the city throughout history.
Designs for the avant-garde facility were inspired by the dhow, the traditional Arabian pearl fishing boat. The facility will be able to accommodate around 40,000 visitors during the actual World Cup, but it has been designed to be modular, in order to allow a reduction of total capacity to around 20,000 seats for its post-event use. But there has been some controversy over the shape of the facility, some quipping that it resembles a female body part.
According to the Secretary General of Qatar 2022 Supreme Committee, Hassan Al Thawadi, the Al Wakrah Stadium is "the first of six stadiums already in the latter stages of the design process", with a series of other announcements set to be made regarding the other facilities that would serve as venues during the event. Additionally, in 2014 the construction process will begin on five of the stadiums, allowing the projects to reach various phases of development by the end of 2014. A press statement recently released by the Committee indicates that the Al Wakrah Stadium will see early works begin in early January, with the tender