By Barbra Murray, Contributing Editor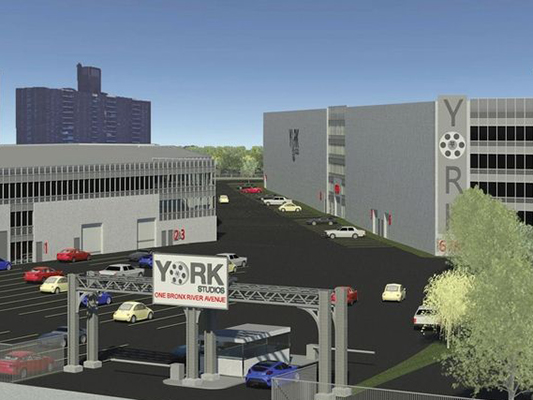 New York's film industry is in growth mode and York Studios is expanding right along with it. The company, owner of a production studio in Queens, just broke ground on the $100 million Michaelangelo Campus, a 350,000-square-foot, cutting-edge film and television production complex in the Bronx.
The start of Michaelangelo Campus comes less than a year after Silvercup Studios opened Silvercup North, a 115,000-square-foot film and television production facility created through a $35 million warehouse transformation. "York Studios' expansion will further establish the South Bronx as a burgeoning hub for film and media," Lieutenant Governor Kathy Hochul said in a prepared statement.
Michaelangelo Campus will sprout up on a long-vacant, 10-acre site in the Soundview area of the Bronx, offering nine sound stages, production office space and workshops. Designed by Gerald Caliendo Architects, the initial phase of the project will span 170,000 square feet and yield five production stages at a cost of $45 million. Michaelangelo Campus will serve the production of feature films, television series, independent films, commercials and music videos.
The New York City Industrial Development Agency will provide $36 million in conditional tax benefits for Michaelangelo Campus over the next 25 years. State and local officials are big supporters of the project, which will result in the creation of more than 400 production industry positions and hundreds of construction jobs, generating approximately $100 million in new tax revenue for the Bronx.
"York Studios is a home-grown success story and their decision to expand to the Bronx is further proof that the film and television industry is thriving in New York State," Hochul added. The New York State Film Tax Credit Program, which Governor Andrew Cuomo has renewed through 2022, can take some of the credit for the industry's growth.
"The requirement of the tax credit program that productions must use qualified production facilities has created increased demand and limited vacancy at soundstages and the need for new infrastructure to be built," as noted in the most recent report on the economic impact of the film industry in New York State, prepared by economic development services provider Camoin Associates in January 2017.
The first phase of Michaelangelo Campus is scheduled to make its debut within 16 to 18 months.